Miller back to full fitness for Austrian GP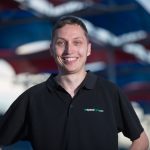 Jack Miller has declared himself fully fit for the first time this season as the MotoGP campaign kicks back into life at the Austrian Grand Prix this weekend.
The rising Australian star has been plagued by injury concerns this year which began when he suffered a broken leg in a pre-season motocross accident.
Miller then experienced a further set back when he fractured the fifth metatarsal bone in his right foot in a crash that ruled him out April's Grand Prix of the Americas.
While the injury has hampered his recovery, the Marc VDS Honda rider has since shot to fame in the premier class by scoring a stunning maiden win at Assen.
He has since followed that up by finishing seventh in the German Grand Prix, which saw the Queenslander contend for a podium before a poor strategy call.
Now back to full fitness, the Townsville rider is brimming with confidence as he aims to continue his recent run of strong form.
The 21-year-old heads to Austria having completed a productive test day at the Red Bull Ring, which returns to the MotoGP calendar for the first time since 1997.
"This is the first race this year that I am going into with a lot of confidence and at 100 percent fitness with a good feeling on the bike. I'm really keen to get going again," said Miller.
"After a relaxing summer break I'm raring to get started again in Austria and build on the performances of the three previous races.
"I ended the first half of the season really strongly, so it will be important to keep the momentum going.
"It was nice to try the track out in Austria before this weekend at the recent test and I was able to put in a really strong race rhythm there.
"We need to wait to see what the tyre allocation is from Michelin but tyre life at the test was not an issue for me. It will be an interesting race because it is a horsepower track.
"That might help the red bike a little more than our package but like always I'm ready and motivated to give it a good go."
Practice for the Austrian Grand Prix begins on Friday.