Walkinshaw Racing eyes GT3 expansion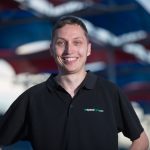 Walkinshaw Racing has intentions to expand its GT3 program to a four car effort next year.
The Melbourne operation established a GT3 arm to its arsenal this year with the arrival of a new 2016 specification Porsche GT3R for an Australian GT campaign, led by the experienced John Martin.
Walkinshaw managing director Adrian Burgess met with Porsche at Weissach in Germany last week before heading to the Spa 24 Hour race to learn more about the category.
Talk of a GT3 expansion comes amid uncertainty surrounding the Walkinshaw-owned Holden Racing Team concern.
The continuation of Holden factory support beyond this year is yet to be secured while drivers James Courtney and Garth Tander are both out of contract at the end of the season.
While Supercars remains the core part of its business, boss Ryan Walkinshaw believes an expanded GT3 program is an ideal addition to his outfit.
"It (GT3) is a really exciting category to be involved and it is good to have that complement our Supercars program," Walkinshaw told Speedcafe.com.
"In an ideal world we will have two, three if not four cars next year. That is the perfect scenario and where our ambitions lie at the moment.
"It makes a lot of sense in terms of transporting the cars. If we get to that tipping point it makes very good business sense."
Walkinshaw Racing has already earmarked plans to contest next year's Bathurst 12 Hour.
Speedcafe.com understands it could run as many as three Porsches in the February 3-5 Mount Panorama marathon.
The possibility of contesting more major international events has also been considered with the showpiece Spa 24 Hour race firmly on the team's radar.
"We have got ambitions to do the Bathurst 12 Hour like most GT3 teams in Australia do but our real ambition for next year and beyond is to do some big international rounds," added Walkinshaw.
"At some point Spa will be on our radar if we can get the right drivers and cars to go and do it.
"We don't want to do it just to make up the numbers.
"We would like to have a good crack at being competitive. If the opportunity presents itself we will certainly be interested.
"Our relationship with Porsche has been fantastic so far. The support for us and the customers has been second to none.
"They have got a lot of ambitions to make sure that the GT program is as successful as their competitors. They have been doing a huge amount of work behind the scenes with us."
Walkinshaw's Australian GT program continues at Sydney Motorsport Park from August 26-28.