Tander eyeing national title redemption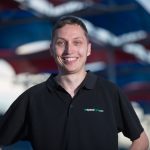 Leanne Tander is setting her sights on claiming a maiden national title in what she has flagged as possibly her final full-time season in motorsport.
The 36-year-old mother of two has stormed to the top of the Australian Formula Ford Series standings after claiming her third race win of the campaign at Queensland Raceway last weekend.
Tander, wife of 2007 Supercars Champion Garth, returned to competitive motorsport last season in Formula Ford after putting her motor racing career on hold to have children.
Runner-up in the Australian Formula 3 Championship in 2007 and 2008, this year represents her last chance to secure a national title, the missing piece in her impressive resume.
Tander enjoyed four seasons in Australian F3 before working her way into Supercars' second tier in 2009.
Driving for Mick Ritter's renowned Sonic Formula Ford outfit, she is determined to make the most of a final national title tilt.
A solid weekend at Ipswich has seen her open up a 17 point lead over Will Brown in the series points.
"For sure the title push is on. That is what I am here for," Tander told Speedcafe.com.
"Whether I will win it at the end of the day I don't know. There are some very fast going guys in this class but I'm not here to make up the numbers as an old lady racer.
"I'm here to win races and if that ends up with the series that is even better. It is definitely the one thing (a national title) that I am missing. I've finished second a number of times so it would be great to end on a high.
"It is also personal thing for me to know that I can still do it.
"It's great to have another chance. I have been fortunate to have a real crack at it and I'm just enjoying it while I can."
While this season is likely to be her last full-time campaign, Tander is hoping to compete in several one-off races in the future and is keen to contest the Bathurst 12 Hour.
"I'd love to do more racing but it does all come down to money and this is probably going to be my last year of full-time racing," added Tander.
"If something pops up I will definitely grab it but the way it is looking this will probably be it. After that there might be the odd race here and there.
"I'd love to do GTs and if the opportunity came up I would definitely grab it. I don't have the budget to get a car or get a team to run me for a season.
"I did the Bathurst 12 Hour before in the production days and had a ball, so if an opportunity came up there I would grab it."
Tander will continue her Australian Formula Ford Series title bid at Wakefield Park, which will host the fourth round from August 19-21.