Supercars Formula 5000 proposal ruffles feathers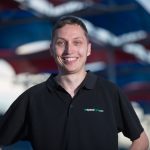 A Supercars backed proposal to form a rival single seater category to the new Formula Thunder 5000 series has been met with resistance.
The concept, revealed by motoring.com.au, was floated to teams at the Castrol Edge Townsville 400 as part of Supercars' 2025 vision for the future.
It comes as Supercars attempts to strengthen control over its line-up of support categories.
The idea would see the creation of a bespoke Formula 5000 style single-seater powered by Supercars' existing 5.0 litre V8 engine, while utilising the current Car of the Future transaxle gearboxes.
THE FINAL RACE OF THE 2023 REPCO SUPERCARS CHAMPIONSHIP ON ONE OF THE WORLD'S BEST STREET CIRCUITS. GO ALL IN AT THE VAILO ADELAIDE 500, CLICK HERE TO BUY TICKETS
Supercars declined to comment on the proposal but Speedcafe.com understands the plan is purely a concept at this stage with no timeframe attributed to its rollout.
Such a championship would provide direct competition to the new Formula Thunder 5000 series, outlined by former motorsport publisher and driver Chris Lambden in March.
Lambden's series, which utilises Swift-designed chassis and Ford Coyote V8 engine, is working towards a 2017 debut.
However, Supercars' plan has been met with resistance from Supercars team owners including board member and Triple Eight boss Roland Dane.
"I've got no interest in it whatsoever," Dane told Speedcafe.com.
"It was certainly rolled out as part of a much bigger plan for the future but it has no place in our business.
"It is an idea that was tabled. Some were good and some were not so good. I don't think that particular idea has any part of our future.
"If there is room for such a championship or series, and I'm not sure there is, I'm sure Chris Lambden will do a good job with his (series) if there is room for it.
"I'm not sure there is room for any series like that in the Australian market but I wish Chris good luck and he will show if there is a market or not."
Lambden elected not to comment when contacted by Speedcafe.com.