Camilleri stars in Australian GT Trophy Series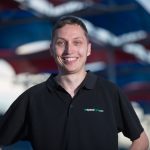 A round victory for Jake Camilleri saw him claim the CAMS Australian GT Trophy Series MARC Class title at Queensland Raceway.
The Queenslander holds an unassailable lead having banked 674 points with one round remaining in the series.
"It's fantastic," said Camilleri. "It's been a great effort from the whole team all season, and it's nice to be able to get it done at Queensland Raceway."
It was a near perfect weekend for Camilleri, who kicked things off with pole position on Saturday afternoon, followed by victory in Race 1.
Camilleri led Race 2 with the fast starting Morgan Haber and Jack Smith running nose to tail in the opening laps.
However, a mistake from Camilleri allowed Smith through to the lead which he held to the chequered flag.
Camilleri settled for second followed by Keith Kassulke (MARC Ford Focus) who completed a 1-2-3 for MARC Cars Australia.
The Australian GT Trophy Series heads to Phillip Island for the final round from September 9-11.
Porsche GT3 Cup Challenge
The Porsche GT3 Cup Challenge title battle has taken another twist after Jaxon Evans completed a clean sweep of victories.
Fresh from winning the Jim Richards Endurance Trophy, Evans went on to claim two comfortable wins from title rival Hamish Hardeman.
Evans' weekend domination has seen him close to within 23 points of Hardeman in the overall standings ahead of the Phillip Island finale (September 9-11).
"It was a great weekend, taking pole position and three race wins," said Evans.
"I did all I could this weekend to reduce the points gap to Hamish and I'll plan to do the same at Phillip Island. I just hope we're still in contention for the title entering the final race of the season," said Evans.
Jamey Blaikie Scholarship recipient Jake Klarich finished third in both of Sunday's races.
Jim Campbell took the Elite Class honours in Race 2 after coming through to finish fourth.
Anthony Gilbertson claimed the Elite Class victory in the final race, while Scott Taylor starred in Class B.
Australian Formula Ford Series
Will Brown stormed to a double victory as he took out the third round of the Australian Formula Ford Series.
After a post race penalty saw him stripped of the win in Saturday's opener, Brown showed his class by recording two relatively comfortable wins.
The Queenslander, who also competes in the Australian Formula 4 Championship, headed Andrew Kahl by 1.6s, with Ryan Pike in third and Leanne Tander in fourth.
Brown came under severe pressure in the early stages of the final heat from Kahl and Tander.
However, a spin from Kahl at Turn 2 on lap 8 allowed Brown to gallop into a healthy lead, while Tander was forced to take evasive action on the grass.
Adrian Lazzaro profited from the incident to claim second with Jordan Boys coming through record third.
Tander managed to recover to fourth after dropping to eighth following her off track excursion.
While Brown took out the round win, Tander has assumed the lead in the overall series standings ahead of next month's visit to Wakefield Park.
Australian Formula 3 Premier Series
Chris Anthony and Tim Macrow shared the spoils in the two Australian Formula 3 Premier Series races, while Roland Legge claimed the round win.
Anthony stormed from the rear of the grid to win what proved to be a thrilling second heat.
The championship contender, who retired from Race 1, became locked in a dice with Legge for the lead before he eventually took the position with two laps remaining at Turn 4.
Race 1 winner Cameron Shields also passed Legge in the closing stages to deny him second position at the flag.
Macrow retired from the encounter with a mechanical issue.
The championship leader Macrow bounced in back in the final race with a commanding drive to victory.
Macrow grabbed the lead at Turn 1 on the opening lap courtesy of a stunning start from third on the grid.
Shields and Anthony applied pressure throughout but they were unable to halt Macrow's charge.
Macrow leads Anthony by 29 points in the standings while Shields secured the National Class title.
The series heads to Phillip Island for the penultimate round from September 9-11.
Kerrick Sports Sedans
Reigning series winner Tony Ricciardello bolstered his Kerrick Sports Sedans title hopes after scoring two convincing wins. 
The nine-time champion won round three as his nearest rival Jack Perkins (Audi) again showed his speed, but failed to finish two of the three races for the second consecutive round.
Ricciardello's consistency saw him take two of the three races this weekend and build his series lead to 141 points.
Perkins has five wins from nine starts this year, however his three DNFs and one non-start have him only sixth in the championship with two rounds remaining.
His run of retirements continued in Race 2 when a puncture saw him drop out of the race.
An engine issue prevented him from taking the start in the final encounter.
Steven Tamasi followed Ricciardello home in the two races. Shane Bradford and Daniel Tamasi finished third in Race 2 and Race 3 respectively.
Six-time champion Kerry Baily also suffered mechanical problem in Race 2 which ruled him out of the last race.
Australian Production Car Series 
The Sherrin Racing team came through to win today's 250km Australian Production Car Series encounter.
The victory for Grant and Iain Sherrin (BMW135i) comes after a pit lane drama saw a potential triumph slip from their grasp in Saturday's Fight in the Night endurance.
Saturday winners Tim Leahy and Beric Lynton (#23 Bruce Lynton Prestige Automotive BMW1M) finished second just 2.5s adrift of the Sherrins.
Third on the road and second for Class A were Aaron Seton and Tony Alford in the Donut King BMW1M, who after a late Safety Car restart had earlier been challenging for second and first in class.
Also having been in the battle for the lead was the Luke Searle/Paul Morris #62 Roadchill Freight Express BMW M135i, but a late pit stop under the final Safety Car saw them lose touch with the leaders.
Taking the victory for Class C was the #88 Gosford European Car Services/Network Clothing Renault Megane of Francois Jouy and Franck Donniaux.
Australian Sports Racers Series
Roger I'Anson completed a clean sweep in the Australian Sports Racer Series with a double victory on Sunday.
I'Anson (West Sportscar) produced two dominant drives as he led John Morriss (Radical) and Josh Cranston (RFR F1000) home in the two 12 lap races.
Jason Makris (West Sportscar) finished third in both races.
The second heat produced drama on the opening lap when Josh Townsend and Adam Cranston collided.
The incident resulted in a violent rollover for Cranston, who was taken to hospital with suspected broken bones in his foot.
Townsend emerged from the collision unscathed.
The series visits Phillip Island for the next round from September 9-11.