Snetterton renames corner after Justin Wilson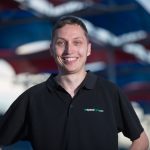 Snetterton has honoured the late Justin Wilson by renaming one its corners after the former Formula 1 and IndyCar driver.
Circuit owners MotorSport Vision (MSV) have elected to rename the formerly titled Montreal hairpin after Wilson, who was killed during an IndyCar race at Pocono last year.
The renamed Wilson hairpin was unveiled on Monday by Wilson's former manager and MSV boss Jonathan Palmer and will be used for the time at this weekend's British Touring Car Championship round.
A plaque featuring an image of Wilson's helmet has been installed at the corner ahead of Sunday's BTCC races to be held on what would have been his 38th birthday.
Parents of the IndyCar star Keith and Lynn Wilson attended the tribute alongside Justin's younger brother Stefan Wilson.
Stan Sport is the only way to watch every round of the INDYCAR SERIES. Click here for all the action streaming ad-free, live and on demand.
"Justin Wilson, the champion of my inaugural Formula Palmer Audi championship, thoroughly deserved the support which that success brought him, and it was enormously satisfying to watch him make the best possible use of every opportunity he had through to F1 and IndyCar racing," said former F1 driver Palmer.
"But not only was Justin an outstanding racing driver, he was also the epitome of a true sportsman, earning universal respect and admiration. He leaves a lasting legacy that we will cherish and perpetuate, with the naming of Wilson corner at Snetterton an important part of that."
"We cannot thank Jonathan and Lisa Davis (MSV's General Manager) enough for all their support for Justin and our whole family stretching right back as far as the inaugural Formula Palmer Audi race in 1998," said Keith Wilson.
"They have played a huge part in all of our lives and as Stefan says Justin would be so honoured to have this corner named after him.
"Snetterton is a great circuit steeped in history and after having new life injected into it by Jonathan its life should extend for further generations allowing Justin's corner to rekindle his association with Snetterton and Jonathan."