GT Asia champs plan Porsche Bathurst attack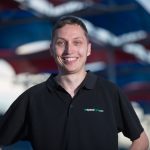 Top Asian GT outfit Craft Bamboo Racing has confirmed intentions to return to the Liqui-Moly Bathurst 12 Hour with a two-car Porsche effort next year.
Plans are underway for the Hong Kong based operation to field two Porsche GT3-Rs in the Mount Panorama endurance classic from February 3-5.
Its cars will form part of a major Porsche presence in the race, with at least two factory assisted GT3-Rs expected to be fielded by local outfit Walkinshaw Racing.
Craft Bamboo Racing fielded a twin Aston Martin attack in the 2015 event, which resulted in a third place finish for the Stefan Mucke, Alex MacDowell and Darryl O'Young entry.
The squad elected to miss this year's event after undergoing a transition from Aston Martin to Porsche equipment during the off-season.
Ahead of confirmation for next year's Bathurst 12 Hour, team director and driver O'Young is confident Craft Bamboo Racing can challenge for the victory outright.
If the required sponsorship is secured the team aims to field entries in both the new professional class and the pro-am categories.
The team will assess its driver line-up options over the coming weeks.
"Bathurst is in our plans but until we put the entry in we are not confirmed, as we are trying to put the sponsors, budgets and drivers together," O'Young told Speedcafe.com.
"We have the intention to come and we have a lot of support from Australian fans and we really want to be back there.
"It is something that we will confirm pretty soon. We will try to firm it up as soon as possible.
"The Bathurst 12 Hour is a race that has always been high on our target and we want to be there to succeed.
"We have had a podium in the past and it it really is unfinished business for the team.
"There are some regulation changes with the introduction of the all professional class so there are things to consider."
O'Young believes that dropping the requirement to run a Bronze or Silver seeded driver needed to happen but is unsure if the timing is correct.
"There is always going to be that tipping point of when they can move to a full pro class," O"Young added.
"It does put more financial pressure on teams.
"We work a lot with the manufacturer but we are still a privateer team.
"It is a very difficult balance and there has to be a point when the event moves to an professional class, but I'm not sue if the timing is right. It is very difficult to say.
"To win Bathurst you need a full professional line up."
Entries for the 2017 Bathurst 12 Hour opened earlier this month.