Mies shoots to Townsville Australian GT pole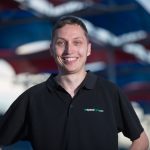 Factory Audi ace Christopher Mies claimed pole position for the opening Australian GT Championship race at the Castrol Edge Townsville 400.
The reigning Australian GT champion set a new lap record at the Reid Park circuit to secure pole for the #1 Jamec Pem Racing entry, he shares with Tony Bates.
Mies easily eclipsed the 1:12.8s benchmark set in yesterday's opening qualifying by posting an 1:11.86s effort in the Audi R8 GT3.
The German faced a strong challenge for pole with the Scott Taylor Motorsport Mercedes driven by Craig Baird just 0.2s adrift at the chequered flag.
Tekno Autosports secured the second row courtesy of times from Jonathon Webb and Nathan Antunes.
Stan Sport is the only way to watch every round of Speedseries. Click here for all the action streaming ad-free, live and on demand.
Webb, who is partnering Grant Denyer this weekend, briefly enjoyed a spell at the top of the timesheets before settling for third in the McLaren 650S.
Antunes piloted a sister 650S to fourth less than a tenth slower than his team-mate.
The Glen Wood/Justin McMillan Lamborghini will start from fifth ahead of yesterday's provisional pole-sitter Klark Quinn (McLaren).
Meanwhile, experienced racer Marcus Marshall put the Supabarn Supermarkets Audi in seventh.
The top 10 was completed by Roger Lago (Lamborghini), Brad Shiels (Porsche) and the Walkinshaw Racing Porsche of John Martin.
The Team SRM BMW M6 GT3 of Steve Richards and Max Twigg will start from 11th ahead of championship leader Nathan Morcom (McLaren).
Result: Australian GT Championship Qualifying 2
| | | | | | |
| --- | --- | --- | --- | --- | --- |
| 1 | JAMEC PEM Racing | Christopher Mies (Ger) | Audi R8 LMS | 1:11.8611* | |
| 2 | Scott Taylor Motorsport | Craig Baird (Qld) | Mercedes Benz AMG GT | 1:12.0792 | 00.2181 |
| 3 | McLaren Melbourne | Jonathon Webb (NSW) | McLaren 650S GT3 | 1:12.2586 | 00.3975 |
| 4 | Beechwood/SLR/Buildmap | Nathan Antunes (NSW) | McLaren 650S GT3 | 1:12.2774 | 00.4163 |
| 5 | Interlloy M Motorsport | Glen Wood (Vic) | Lamborghini R-EX | 1:12.3371 | 00.4760 |
| 6 | Darrell Lea | Klark Quinn (Qld) | McLaren 650S GT3 | 1:12.5061 | 00.6450 |
| 7 | Supabarn Supermarkets | Marcus Marshall | Audi R8 LMS | 1:12.7133 | 00.8522 |
| 8 | JBS Australia | Roger Lago (Qld) | Lamborghini R-EX | 1:12.8334 | 00.9723 |
| 9 | AMAC Motorsport | Brad Shiels (NSW) | Porsche 997 GT3-R | 1:12.9169 | 01.0558 |
| 10 | Walkinshaw GT3 | John Martin | Porsche 911 GT3-R | 1:12.9809 | 01.1198 |
| 11 | BMW Team SRM | Steve Richards (Vic) | BMW M6 GT3 | 1:13.0815 | 01.2204 |
| 12 | Direct Plasterboard Outlet | Nathan Morcom | McLaren 650S GT3 | 1:13.1017 | 01.2406 |
| 13 | Modena Engineering | Ricky Capo (Vic) | BMW Z4 GT3 | 1:13.4395 | 01.5784 |
| 14 | Darrell Lea | Tony Quinn (Qld) | Aston Martin Vantage | 1:13.7095 | 01.8484 |
| 15 | GT Motorsport | Greg Taylor (NSW) | Audi R8 LMS | 1:13.7960 | 01.9349 |
| 16 | JAMEC PEM Racing | Steve McLaughlan (Vic) | Audi R8 LMS | 1:14.0200 | 02.1589 |
| 17 | Objective Racing | Tony Walls (Qld) | McLaren 650S GT3 | 1:14.0232 | 02.1621 |
| 18 | Bondi Wholefoods | Ash Samadi (Vic) | Audi R8 LMS | 1:14.2888 | 02.4277 |
| 19 | Fastway Couriers | Simon Ellinghham (NZ) | Audi R8 Ultra | 1:14.4623 | 02.6012 |
| 20 | Hallmarc Developments | Marc Cini (Vic) | Audi R8 Ultra | 1:14.7157 | 02.8546 |
| 21 | Performance West Motorsport | Alexander Rullo (WA) | Lamborghini Gallardo | 1:14.7649 | 02.9038 |
| 22 | Hogs Breath Cafe/Griffith Corp | Scott Hookey (Qld) | Mercedes Benz AMG SLS | 1:18.6361 | 06.7750 |
Result: Australian GT Championship Combined Qualifying
| | | | | | |
| --- | --- | --- | --- | --- | --- |
| 1 | JAMEC PEM Racing | C.Mies/T.Bates | Audi R8 LMS | Q2  1:11.8611* | |
| 2 | Scott Taylor Motorsport | S.Taylor/C.Baird | Mercedes Benz AMG GT | Q2  1:12.0792 | 00.2181 |
| 3 | McLaren Melbourne | G.Denyer/J.Webb | McLaren 650S GT3 | Q2  1:12.2586 | 00.3975 |
| 4 | Beechwood/SLR/Buildmap | N.Antunes/E.Barbour | McLaren 650S GT3 | Q2  1:12.2774 | 00.4163 |
| 5 | Interlloy M Motorsport | J.McMillan/G.Wood | Lamborghini R-EX | Q2  1:12.3371 | 00.4760 |
| 6 | Darrell Lea | Klark Quinn (Qld) | McLaren 650S GT3 | Q2  1:12.5061 | 00.6450 |
| 7 | Supabarn Supermarkets | J.Koundouris/M.Marshal | Audi R8 LMS | Q2  1:12.7133 | 00.8522 |
| 8 | JBS Australia | Roger Lago (Qld) | Lamborghini R-EX | Q2  1:12.8334 | 00.9723 |
| 9 | AMAC Motorsport | A.Macpherson/B.Shiels | Porsche 997 GT3-R | Q2  1:12.9169 | 01.0558 |
| 10 | Walkinshaw GT3 | J.Martin/N.Muston | Porsche 911 GT3-R | Q2  1:12.9809 | 01.1198 |
| 11 | BMW Team SRM | S.Richards/M.Twigg | BMW M6 GT3 | Q2  1:13.0815 | 01.2204 |
| 12 | Direct Plasterboard Outlet | Nathan Morcom | McLaren 650S GT3 | Q2  1:13.1017 | 01.2406 |
| 13 | Modena Engineering | Ricky Capo (Vic) | BMW Z4 GT3 | Q2  1:13.4395 | 01.5784 |
| 14 | Darrell Lea | Tony Quinn (Qld) | Aston Martin Vantage | Q2  1:13.7095 | 01.8484 |
| 15 | GT Motorsport | Greg Taylor (NSW) | Audi R8 LMS | Q2  1:13.7960 | 01.9349 |
| 16 | JAMEC PEM Racing | Steve McLaughlan (Vic) | Audi R8 LMS | Q1  1:13.8216 | 01.9605 |
| 17 | Objective Racing | Tony Walls (Qld) | McLaren 650S GT3 | Q1  1:13.9349 | 02.0738 |
| 18 | Hallmarc Developments | Marc Cini (Vic) | Audi R8 Ultra | Q1  1:14.2602 | 02.3991 |
| 19 | Bondi Wholefoods | Ash Samadi (Vic) | Audi R8 LMS | Q2  1:14.2888 | 02.4277 |
| 20 | Fastway Couriers | Simon Ellinghham (NZ) | Audi R8 Ultra | Q2  1:14.4623 | 02.6012 |
| 21 | Performance West Motorsport | Alexander Rullo (WA) | Lamborghini Gallardo | Q2  1:14.7649 | 02.9038 |
| 22 | Hogs Breath Cafe/Griffith Corp | Scott Hookey (Qld) | Mercedes Benz AMG SLS | Q1  1:15.3812 | 03.5201 |