Klark Quinn takes out Australian GT opener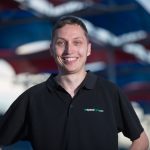 A late surge from Klark Quinn saw him record a comfortable victory in the opening Australian GT Championship race at Townsville.
The Darrell Lea McLaren driver held fourth for much of the opening first stint of the race but emerged in second after the mandatory pitstops.
Quinn faced a six second deficit to the pole-sitting Jamec Pem Racing Audi of Tony Bates and Christopher Mies after the stops, but wasted little time in closing the gap.
With just 14 minutes of the race remaining, Quinn slid by Bates where he stayed until the chequered flag.
Bates was unable to hang onto the back of the McLaren and was forced to settle for second.
Stan Sport is the only way to watch every round of Speedseries. Click here for all the action streaming ad-free, live and on demand.
Co-driver Mies handed Bates the lead after building up a 10 second advantage before the pitstops.
A solid drive from Roger Lago saw him bring the JBS Lamborghini Gallardo RE-X home in third having held a spot in the top 10 for the entire encounter.
Championship leader Nathan Morcom (Tekno Autosports McLaren) made the most of his shorter pitstop time to claim fourth, after starting the race from 12th on the grid.
Tony Quinn (Aston Martin) was another driver to benefit from a shorter compulsory stop to finish fifth ahead of Greg Taylor (Audi) and the Supabarn Supermarkets Audi of Marcus Marshall/James Koundouris.
After occupying third in the first stint, the Grant Denyer/Jonathon Webb Tekno McLaren managed to salvage eighth despite undertaking the longest compulsory pitstop time.
The Glen Wood/Justin McMillan Lamborghini and the Nathan Antunes/Elliot Barbour McLaren rounded out the top 10.
A strong early showing from the Walkinshaw Racing Porsche resulted in a 11th place finish for John Martin and Neale Muston.
Meanwhile a difficult second stint for Scott Taylor saw the Scott Taylor Motorsport Mercedes take the flag in 14th, having spent much the first half of the race in second courtesy of Craig Baird.
The Australian GT Championship returns on Sunday for Race 2 at 1125 local time.
Result: Australian GT Championship Race 1
| | | | | | |
| --- | --- | --- | --- | --- | --- |
| 1 | Darrell Lea | Klark Quinn (Qld) | McLaren 650S GT3 | 47 | 01:02:15.8368 |
| 2 | JAMEC PEM Racing | C.Mies/T.Bates | Audi R8 LMS | 47 | 01:02:26.8474 |
| 3 | JBS Australia | Roger Lago (Qld) | Lamborghini R-EX | 47 | 01:02:38.2979 |
| 4 | Direct Plasterboard Outlet | Nathan Morcom | McLaren 650S GT3 | 47 | 01:02:41.5479 |
| 5 | Darrell Lea | Tony Quinn (Qld) | Aston Martin Vantage | 47 | 01:02:56.5727 |
| 6 | GT Motorsport | Greg Taylor (NSW) | Audi R8 LMS | 47 | 01:02:58.0075 |
| 7 | Supabarn Supermarkets | J.Koundouris/M.Marshall | Audi R8 LMS | 47 | 01:02:58.4026 |
| 8 | McLaren Melbourne | G.Denyer/J.Webb | McLaren 650S GT3 | 47 | 01:02:58.6890 |
| 9 | Interlloy M Motorsport | J.McMillan/G.Wood | Lamborghini R-EX | 47 | 01:02:59.8900 |
| 10 | Beechwood/SLR/Buildmap | N.Antunes/E.Barbour | McLaren 650S GT3 | 47 | 01:03:09.3458 |
| 11 | Walkinshaw GT3 | J.Martin/N.Muston | Porsche 911 GT3-R | 47 | 01:03:13.3529 |
| 12 | Objective Racing | Tony Walls (Qld) | McLaren 650S GT3 | 47 | 01:03:21.9319 |
| 13 | Hallmarc Developments | Marc Cini (Vic) | Audi R8 Ultra | 46 | 01:02:24.0179 |
| 14 | Scott Taylor Motorsport | S.Taylor/C.Baird | Mercedes Benz AMG GT | 46 | 01:02:24.5661 |
| 15 | AMAC Motorsport | A.Macpherson/B.Shiels | Porsche 997 GT3-R | 46 | 01:02:25.4216 |
| 16 | Performance West Motorsport | Alexander Rullo (WA) | Lamborghini Gallardo | 46 | 01:02:26.4353 |
| 17 | Bondi Wholefoods | Ash Samadi (Vic) | Audi R8 LMS | 46 | 01:02:36.2520 |
| 18 | BMW Team SRM | S.Richards/M.Twigg | BMW M6 GT3 | 46 | 01:02:44.2065 |
| 19 | Fastway Couriers | Simon Ellinghham (NZ) | Audi R8 Ultra | 46 | 01:02:53.8304 |
| 20 | Hogs Breath Cafe/Griffith Corp | M.Griffith/S.Hookey | Mercedes Benz AMG SL | 45 | 01:02:28.6749 |
| 21 | Modena Engineering | Ricky Capo (Vic) | BMW Z4 GT3 | 45 | 01:03:04.3356 |
| DNF | JAMEC PEM Racing | Steve McLaughlan (Vic) | Audi R8 LMS | 30 |    41:45.3622 |