Cameron McConville resigns from CAMS role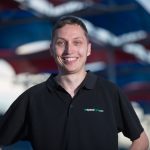 Cameron McConville has resigned from the motor sport development general manager role at the Confederation of Australian Motor Sport (CAMS).
The former Supercars driver joined CAMS in 2014 overseeing the introduction of the Australian Formula 4 Championship and the recent acquisition and running of the Shannons Nationals.
McConville previously worked at CAMS as a driver development manager before taking up a motorsport manager position at Porsche Cars Australia.
The 42-year-old has decided to leave his current post in order to resume his racing career which had taken a back seat while at CAMS.
McConville remains in the frame to contest this year's Sandown 500 with Lucas Dumbrell Motorsport and is due to race the three remaining Australian Endurance Championship GT events.
The Melbourne driver says the split with CAMS is an amicable one and he is to continue his association with the organisation in an ambassador role.
CAMS general manager of Motor Sport Michael Smith will take over McConville's role while a permanent replacement is sought.
"Obviously the workload of F4 and the Shannons Nationals makes it difficult to do any racing and I miss it," McConville told Speedcafe.com.
"I just feel if I keep saying no to these racing opportunities then they are not going to be around forever.
"I've decided to get back into a bit of racing, which will be mainly GT based but potentially the odd (Supercars) enduro, if it presents itself.
"It is 110 percent (an amicable split), Eugene (Arocca, CAMS CEO) and Mike Smith have been huge supporters and got me on board in the first place.
"I will stay involved as an ambassador and attend the young driver academies and do some mentoring of the F4 guys.
"It won't be a harsh break up and I will stay involved as much as I can."
McConville admits the challenges of introducing Formula 4 have provided hurdles during his role but insists they are not a factor in his decision, and remains a strong supporter of the category.
"I won't lie it has been hard slog and it has been a lot harder with this category than anybody expected but I wouldn't change it for anything," he added.
"I have learned a lot and I've enjoyed working with young talent immensely. I still think it is the right decision for Australia and I support CAMS and Formula 4. I hope that it succeeds."
CAMS CEO Arocca commended McConville's efforts during his time with the organisation.
"We respect Cam's desire to do more competitive driving and understand his decision pursue a new role that allows for that," said Arocca.
"While he will still have some involvement with CAMS as part of our driver development program, we acknowledge the terrific job he's done in a full time capacity and wish him all the best in his racing and professional endeavours."
McConville's final event will be this weekend's Shannons Nationals meeting at Sydney Motorsport Park ahead of his last day on Monday.