Longhurst to race B&H BMW at Silverstone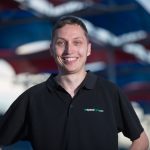 Tony Longhurst will be reunited with the car that he guided to the 1994 Australian Manufacturers' Championship at next month's Silverstone Classic.
Longhurst will pilot the BMW 318i in two Super Touring races for 1990s machinery at the Northamptonshire circuit from July 29-31.
Once part of the Australian factory BMW team, the car is now owned by Kiwi Lindsay O'Donnell, who has completed a full restoration to its 1994 Benson & Hedges paint scheme.
It does however feature the aero kit that BMW adopted for the 1995 season.
Longhurst drove the car earlier this year at Highlands Park in New Zealand and is eagerly awaiting a maiden visit to Silverstone.
The car stirs up plenty of memories for the 58-year-old Gold Coast-based double Bathurst 1000 winner, having scored six wins on his way to the 1994 crown.
It also featured heavily in one of Australian motorsport's most infamous clashes when he and Paul Morris collided at Winton.
The incident resulted in a physical confrontation with the latter once both cars came to rest.
"I've never been across to Silverstone before but the event looks amazing," Longhurst told Speedcafe.com.
"It is a bit of an adventure for me, it has got me excited.
"That is the car I was in when I jumped out and clobbered Paul Morris. That brings back fond memories.
"I won the championship in it so it was a good car for me."
The Silverstone Classic has attracted familiar names from Super Touring's past with Brits John Cleland and Patrick Watts competing in the Vauxhall Vectra and Peugeot 406 they once raced.
"I've raced against a few of those guys like Patrick Watts, John Cleland, Steve Soper and Joachim Winkelhock, so it will be nice to see who turns up," added Longhurst.
"I'm in someone else's car so I have got to be sensible about it."
VIDEO: Tony Longhurst/Paul Morris clash at Winton 1994