New Aus/NZ team to tackle Toyota Racing Series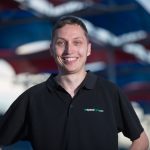 Newly formed MTEC Motorsport will compete in New Zealand's popular Toyota Racing Series from next season.
The operation has been borne out of a merger between Australian squad Minda Motorsport and New Zealand outfit ETEC Motorsport.
The new squad headed by former Minda Motorsort team owner Bruin Beasley aims to field four cars in the TRS.
Minda closed its doors at the end of 2013 having fielded cars in the Australian Formula Ford Championship and the Dunlop Series.
ETEC, run by Trevor Sheumack, has been one of the leading lights in the TRS, helping springboard the careers of Richie Stanaway, Thomas Randle and 2014 TRS champion Andrew Tang.
The new organisation will be based out of Minda's Melbourne workshop, although Beasely will make several trips to New Zealand prior to the start of the season.
Having been effectively on the sidelines for the last two seasons, the opportunity to restart his team in the TRS was an opportunity Beasley couldn't turn down.
Staff to help run the team have been secured with the focus now switching to recruiting drivers.
"Motor racing has been part of my life everyday," Beasely told Speedcafe.com.
"For the last two years I have been potting around the shed just doing some restoration work.
"I have been helping Trevor with his team and I really enjoy the TRS. It is at a very high level.
"Trevor and I have been mates for quite a while and last year I said I would like to be a bit more involved.
"There are good people involved and there are international drivers.
"It is just a fantastic experience and Trevor is doing some stuff with Michelin in Asia so it just worked for everybody.
"Effectively I am the team owner but Trevor is still involved.
"It is a good situation where Toyota own the cars.
"The infrastructure I own over there is parked in storage and then when we are heading towards the season, we will get it out and get it organised."
Beasley says he hopes the new alliance will tempt more Australian drivers to contest the series which is held annually in January.
MTEC has acquired an older specification TRS car which will be used to test drivers in the coming months.
The TRS remains the team's sole focus for the immediate future.
"I really hope it attracts more Australian drivers," added Beasley.
"It is quite a unique series and a lot of people in Australia are perhaps not aware how good it is.
"We ran Thomas Randle a couple of years ago and I think it is a great for those kids who are serious about Europe to go over there and try it."