Whincup opens new business venture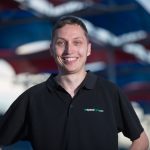 Jamie Whincup has undergone a unique preparation for this weekend's CrownBet Darwin Triple Crown by overseeing the opening of his own cafe on the Gold Coast.
The six-time Supercars champion has been working on the project for two years resulting in a successful official opening last weekend.
Situated at Hope Island, Loca Cafe and car wash is the brainchild of the Red Bull driver with the venture his first real business opportunity.
Speedcafe.com sought out Whincup at the premises which he hopes will give something back to his local Hope Island region.
Loca Cafe is designed to deliver express barista style coffee and a range of healthy snacks alongside a premium car wash facility. The latter will open its doors in two weeks time.
Whincup says the project has been at the forefront of his spare time away from motorsport with the desire to grow a business a long held challenge.
The 33-year-old was heavily involved in the build process of the facility.
"I'm a local of Hope Island and the place was really deprived of two things," Whincup told Speedcafe.com.
"One was a car wash and the other a good, healthy express cafe offering.
"There are plenty of people like me around that don't have time to spend an hour in a cafe.
"I was confident in myself that there is a demand for this type of thing in the area.
"At the end of the day I love motorsport and it is my life and will be for the rest of my life.
"At the same time there are a lot of other things that motivate me outside of motorsport.
"Growing a successful business is one of those and hopefully this is the start of something big and we can repeat it all over the country."
Having only been open for four days, Whincup admits the project is still being fine tuned but like motor racing he is determined to find the best set-up.
"Working in motorsport we absolute go out to perfect everything," he said.
"I'm not sitting here completely stress free because I know everything is not perfect but we will work to make it perfect.
"I feel like I've rolled out of the gate at Clipsal and we have worked through the night for the last two months to get this thing where it is.
"It is not perfect but do you ever roll out of the pits at Clipsal with everything perfect?
"It's been great so far. We want to make sure the systems are up to motorsport spec.
"The response we have had so far has been fantastic it has been a lot bigger than I expected. I couldn't be happier."
Loca Cafe and car wash will have a staff roster of around 30 people once fully up and running with Whincup planning to dedicate his spare time to the venue, while overseeing its management.
"I'm a racer and this hasn't affected motorsport one bit but any spare time I've got I enjoy seeing other businesses succeed," he said.
"I will be dedicating a fair bit of my spare time on maximising this.
"It is great feeling to be able to employ staff and quite a few juniors which is fantastic."