Morcom secures Aston Martin GT Asia drive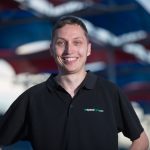 Australian GT Championship leader Nathan Morcom is set to make his GT Asia debut next month with the newly formed Miedecke Stone Motorsport.
The 24-year-old will pilot one of the team's three Aston Martins alongside George Miedecke for the third round of the growing Asian GT series at Okayama, Japan from July 1-3.
Fresh from his triumph in a Tekno McLaren at the Phillip Island 101 last month, Morcom joined Miedecke for his first taste of one of the team's Astons at Queensland Raceway on Tuesday.
"It was good to get Nathan some laps and we are very similar speeds so that is a great start for us for Okayama," George Miedecke told Speedcafe.com.
"We have sent our original car the ex-Tony Quinn chassis over to Japan and we have another car joining us soon.
"The first couple of rounds will be a fact finding mission at the same time I'm confident with both mine and Nathan's speed.
"We had a good chat to Nathan a while ago. He is talent and there is no doubt about it."
Morcom was impressed by the Aston Martin's performance at Queensland Raceway and is keen to compete in Asia.
The young Aussie currently leads both the Australian GT Championship and the Australian Endurance Championship (AEC) having scored four wins this season.
He is yet to secure a deal to contest the remaining three rounds of the AEC.
"The Aston Martin has definitely got its benefits," Morcom told Speedcafe.com.
"It was smooth to drive and there was a lot more traction than I thought there would be especially out of low speed corners.
"Over the last few years the Asian GT series has grown and it is getting a lot more exposure out there now which is great."
A joint effort between Andrew Miedecke and Matt Stone Racing, Miedecke Stone Racing is an official partner team of Aston Martin Racing for the Asian region.
The deal sees the team involved in the provision of parts, cars and technology from Aston Martin Racing in the Asian and Australian markets.
Work continues on securing more drivers in order to run two cars in future GT Asia events.