Ricciardo drives Alan Jones title-winning F1 car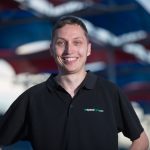 Daniel Ricciardo put his Monaco Grand Prix disappointment behind him by going for a drive in Alan Jones' 1980 world championship winning Formula 1 car.
The Red Bull driver jumped behind the wheel of the Williams FW07 at the Paul Ricard Circuit in France this week.
Ricciardo joined double F1 world champion Mika Hakkinen, David Coulthard and NASCAR star Brian Vickers, who were invited to drive a collection of racing machinery, owned by United Autosports boss Zak Brown.
The Australian was hugely impressed by the FW07 his countryman Jones drove to five victories on his way to the 1980 world championship.
"It was cool – wow," said Ricciardo of the Williams FW07.
"The steering was quite light, quite direct, especially through the slow speed.
"The brakes were actually really good, the car stops really well. I was impressed actually. That was super – it sounds nice."
Former world champion Alan Jones was pleased to see Ricciardo experience the FW07.
"I was really happy to see him in the car and enjoying himself," Jones told Speedcafe.com.
"I bet he got a bit of shock when he hopped in it as he wasn't surrounded by all the safety gear that he has got now.
"I used several cars in any given year. I think that was the car I won the 1980 Australian Grand Prix at Calder Park in. They all have sentimental meanings to me."
VIDEO: Ricciardo's reaction after Williams FW07 drive