British F3 driver unscathed after huge crash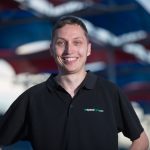 BRDC British Formula 3 driver Ameya Vaidyanathan has miraculously escaped injury following a huge accident at Oulton Park.
The Carlin driver was sent into a series of frightening flips after wheel-to-wheel contact with South African driver Sisa Ngebulana.
Vaidyanathan eventually came to rest at the bottom of Cascades corner where he was attended to by medical crews.
Officials elected to declare the race after six laps.
Following assessment at the circuit's medical centre the Indian racer was released without injury.
Stewards excluded Ngebulana from the results and issued four penalty points on his licence for causing the crash.
Australian Tom Randle had been challenging Ricky Collard for the lead up until the stoppage.
The Melbourne driver was awarded second behind race winner Collard.
BRDC F3 will host two further races scheduled for Monday UK time.
VIDEO: Amateur footage of the crash and the aftermath