Morcom wins after stunning comeback drive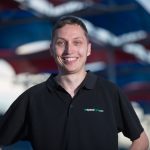 Nathan Morcom produced an impressive drive from the back of the grid to win the opening Australian GT Championship race at Phillip Island.
The McLaren driver managed to scythe his way through the field having been forced to start from 27th following an exclusion from qualifying when officials deemed his 650S GT3 to be underweight.
Morcom wasted little time in the race climbing to 10th when the pit stop window opened shortly after a Safety Car period caused by Peter Rullo's stranded Lamborghini on lap 15.
When racing resumed Morcom stormed from seventh to third before chasing down and then passing Yasser Shahin (Lamborghini) and Tony Walls (McLaren).
Once in front Morcom eased to victory taking the chequered flag from Yasser Shahin, who started from 23rd spot.
The South Australian was 16th at the time of the pit stops but emerged in second once he returned from the pit lane.
A charging drive from Shane van Gisbergen in the second half of the race saw him claim the final place on the podium.
The Kiwi took over the car outside of the top 10 from Klark Quinn, who ran in the top three before the pit stops.
Maranello Motorsport enjoyed a strong showing with its #80 Ferrari piloted by Tony D'Alberto/Graeme Smyth coming home in fourth.
Tony Walls, who led for a spell after the pits stops, brought his Objective Racing McLaren 650S home in fifth ahead of the Dean Canto/Andrew Taplin Lamborghini.
Ricky Capo produced a faultless drive in his BMW Z4 to claim seventh, with Roger Lago (Lamborghini) eighth and George Miedecke (Aston Martin) in ninth.
The BMW M6 GT3 of Steven Richards and Max Twigg completed the top 10.
The race began with pole-sitter Garth Tander leading the early laps in the #2 Jamec Pem Racing Audi R8 before a puncture hit on lap 10 with the Holden Racing Team star holding a lead of more than two seconds.
This handed Nathan Antunes the lead in the Tekno McLaren from Marco Bonanomi.
Antunes appeared to be in the box seat to take out the race but a decision to pit a lap after the Safety Car was recalled proved pivotal, dropping him to 21st position.
A lengthy compulsory pit stop time saw the Bonanomi/Greg Taylor Audi drop to 12th.
Jamec Pem Racing's sister entry of Miguel Molina and Tony Bates encountered a difficult race after being hit with a drive-through penalty for an unsafe release.
The car then suffered a left rear puncture later in the race which demoted him to 28th position.
It proved to be a challenging day for the Audi runners with the Supabarn Supermarkets entry of Marcus Marshall/James Koundouris picking up a puncture with three minutes of the race remaining.
MARC GT's maiden GT3 race ended in disappointment as the Morgan Haber/Bruno Spengler M6 GT3 stopped on track in the early stages.
Result: Australian GT Championship Race 1
| | | | | | |
| --- | --- | --- | --- | --- | --- |
| 1 | DPO | Nathan Morcom (Qld) | McLaren 650S GT3 | 38 | 01:01:17.1757 |
| 2 | The Bend Motorsport | Yasser Shahin (SA) | Lamborghini Gallardo | 38 | 01:01:18.8442 |
| 3 | Darrell Lea | K.Quinn/S.Van Gisbergen | McLaren 650S GT3 | 38 | 01:01:25.3902 |
| 4 | Maranello Motorsport | T.D'Alberto/G.Smythe | Ferrari 458 GT3 | 38 | 01:01:28.5185 |
| 5 | Objective Racing | Tony Walls (Qld) | McLaren 6505 GT3 | 38 | 01:01:36.3336 |
| 6 | Taplin Real Estate | A.Taplin/D.Canto | Lamborghini Gallardo | 38 | 01:01:38.4122 |
| 7 | Modena Engineering | Ricky Capo (Vic) | BMW Z4 GT3 | 38 | 01:01:38.5721 |
| 8 | JBS Australia | Roger Lago (Qld) | Lamborghini R-EX | 38 | 01:02:02.0833 |
| 9 | Miedecke Motor Group | A.Miedecke/G.Miedecke | Aston Martin Vantage | 38 | 01:02:04.9552 |
| 10 | SR Motorsport | S.Richards/M.Twigg | BMW M6 GT3 | 38 | 01:02:12.8686 |
| 11 | Darrell Lea | T.Quinn/D.Gaunt | Aston Martin Vantage | 38 | 01:02:19.8053 |
| 12 | GT Motorsport | G.Taylor/M.Bonanomi | Audi R8 LMS | 38 | 01:02:27.0463 |
| 13 | Walkinshaw GT3 | J.Martin/A.Tebb | Porsche 911 GT3-R | 38 | 01:02:33.6097 |
| 14 | Bondi Wholefoods | Ash Samadi (Vic) | Mercedes AMG SLS-GT3 | 38 | 01:02:47.8168 |
| 15 | Eggleston Motorsport | P.Hackett/D.Storey | Mercedes AMG SLS-GT3 | 37 | 01:01:19.0795 |
| 16 | JAMEC PEM Racing | S.McLaughlin/G.Tander | Audi R8 LMS | 37 | 01:01:21.6055 |
| 17 | Scott Taylor Motorsport | S.Taylor/C.Baird | Mercedes AMG SLS-GT3 | 37 | 01:01:34.5911 |
| 18 | McLaren Melbourne | G.Denyer/M.Kingsley | McLaren 650s GT3 | 37 | 01:01:38.3083 |
| 19 | AMAC Motorsport | A.McPherson/B.Shiels | Porsche 997 GT-R | 37 | 01:01:43.0198 |
| 20 | Interlloy M Motorsport | J.McMillan/G.Wood | Lamborghini R-EX | 37 | 01:01:43.4979 |
| 21 | Beechwood / SLR / Buildmap | N.Antunes/E.Barbour | McLaren 650S GT3 | 37 | 01:01:52.8481 |
| 22 | Fastway Couriers | S.Ellingham/T.Miles | Audi R8 Ultra | 37 | 01:01:59.5641 |
| 23 | Supabarn Supermarkets | J.Koundouris/M.Marshall | Audi R8 LMS | 37 | 01:02:02.2775 |
| 24 | Maranello Motorsport | A.Deitz/C.McConville | Ferrari 458 GT3 | 37 | 01:02:39.1204 |
| 25 | Maranello Motorsport | L.Talbot/J.Fouracre | Audi R8 LMS Ultra | 36 | 01:01:28.0306 |
| 26 | Maranello Motorsport | Peter Edwards (Vic) | Ferrari 488 GT3 | 36 | 01:01:59.1328 |
| 27 | Performance West Motorsport | Peter Rullo (WA) | Lamborghini Gallardo | 33 | 01:02:12.8796 |
| DNF | JAMEC PEM Racing | M.Molina/T.Bates | Audi R8LMS | 27 |    45:31.3968 |
| DNF | MARC GT | Morgan Haber (Qld) | BMW AG M6 GT3 |  4 |    10:22.2019 |