DTM rivalry set to continue at Phillip Island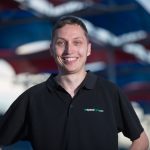 DTM rivals Bruno Spengler and Miguel Molina are ready to go head-to-head today as they fly the flag for BMW and Audi respectively in Australian GT.
Former DTM champion Bruno Spengler and works Audi driver Miguel Molina have headed to Australia to compete at Phillip Island this weekend.
BMW has called upon Spengler to pilot MARC GT's new M6 GT3, while Molina has joined the Audi Customer Racing Australia operation.
Fierce rivals in Germany, the French-Canadian Spengler is looking forward to continuing the BMW-Audi battle in Australia.
"The rivalry definitely is carrying over from DTM to here. It is important for BMW to perform here and everywhere we go," Spengler told Speedcafe.com.
"We are trying hard to perform. We have a new car this year which is fresh and it still has to develop, but it is performing very well for a new car."
Introduced to Phillip Island for the first time on Friday, the duo quickly adapted to the circuit, qualifying inside the top half of the 27 car field for today's first 60 minute sprint race.
Although thrust into a completely new environment, Spengler says he feels equipped to take on Australian GT's best.
The 32-year-old will start from 11th on the grid for the first of two sprint races.
"The first time out on track I didn't know where to go," Spengler said.
"It is a special track with all the elevation changes. I feel like a rookie but I feel a bit better now. I can still improve myself though.
"It is great track first of all but it takes a few laps to really understand it and I didn't get many laps.
"I think I got 15 laps and that is not a lot compared to these guys who race here.
"Starting from P11 is always a bit difficult. I'm not sure if we can overtake that well here because there are a lot of fast corners so I think to be on the podium will be a bit tough."
Molina is in a similar position to Spengler having never visited Australia let alone Phillip Island until this weekend.
The 27-year-old Spaniard, who is partnering Tony Bates, impressed in only his second ever run in GT3 machinery to claim eighth on the grid for today's opening heat.
"It is my first time here and I'm really impressed with it," Molina told Speedcafe.com.
"I have to say it is one of the better race tracks that I have ever been to.
"I'm learning every lap that I am on track and I'm really enjoying the moment and we will see what the race brings.
"I don't have big expectations but I'm looking forward to it. I'm ready to fight in some close battles on the track for sure."
The top international driver in qualifying was meanwhile Marco Bonanomi, who has been recalled by the Audi Customer Racing Australia to pilot the #5 entry alongside by Greg Taylor.
The Italian factory Audi ace was just 0.2s adrift of the pole-sitting #2 Audi of Garth Tander and Steve McLaughlan to claim third on the grid.
"A few of the fastest guys from Europe are here and lap times have dropped a lot compared to last year. It's a great challenge," Bonanomi told Speedcafe.com.
"The pace is good. I think I am missing a couple tenths in some corners but I feel confident in the car. I think if we make every right in the race we can win."
Click here for the full grid for today's race.
The first Australian GT Championship race is scheduled to start at 0935 local time.