Spengler eyeing Bathurst 12 Hour drive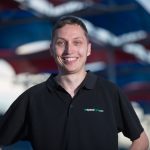 BMW DTM ace Bruno Spengler has declared his ambition to compete in the Bathurst 12 Hour as part of the marque's expansion into the Australian GT scene.
The French-Canadian has been whisked away from Europe by BMW to compete in the Australian GT meeting at Phillip Island this weekend behind the wheel of the new MARC GT M6 GT3.
Spengler is relatively new to GT3 machinery having devoted the majority of his career to Germany's hotly contested DTM.
Although this weekend is his first visit to Australia, the 32-year-old is well aware of the growing Australian GT Championship and the Bathurst 12 Hour, which has emerged as a career goal.
BMW is expected to be represented by at least two entries in the race next year with Steven Richards Motorsport and MARC GT set to field their M6 GT3s.
"I would really like to come to race at Bathurst for sure," Spengler told Speedcafe.com.
"I have seen a lot on TV and I think it would be an interesting challenge for me.
"We haven't talked about it yet, but for sure purely as a driver I would be very interested to compete at the Bathurst 12 Hour one day.
"We will see if BMW competes in it or not but it would depend on that and we will see if it matches the rest of the program."
One of Europe's renowned touring drivers with more than 10 years of experience in the DTM, Spengler is a keen follower of V8 Supercars and is also eager to experience the category's machinery.
"I have been following the series. The cars look and sound great and it is a great show," he added.
"It is definitely something I am curious about to have a try in the car just to feel how it is.
"It has a lot of horsepower and a lot more than the DTM but then again in the corners the car is a lot worse compared to the DTM.
"It is a compromise but it would be interesting to have a try."
The last DTM star to try his hand at V8 Supercars, Mattias Ekstrom, starred in a one-off appearance at Bathurst with Triple Eight in 2013.
Turning his attentions to this weekend's GT meeting, Spengler says it is difficult to set goals given his lack of experience of the Phillip Island circuit and the category.
Spengler is set to share the MARC M6 GT3 with Australian Morgan Haber.
"It is a bit difficult to set a goal or an expectation because I don't know the track and there are a lot of things that come into play," said Spengler.
"There are a lot of good guys out there so it might be a bit tough.
"Our goal is to be as far up the front as possible. Exactly where that is, is a bit tough to say for now, but we will give it our best."