Percat lands Phillip Island Australian GT drive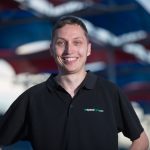 Nick Percat will contest the opening round of the new Australian Endurance Championship at Phillip Island this weekend.
The South Australian will team with car owner Peter Rullo in the Lucas Dumbrell Motorsport prepared Lamborghini Gallardo GT3 for Sunday's three hour endurance.
Percat has already driven the car having joined Rullo and Scott Andrews at this year's Bathurst 12 Hour.
The team's campaign was short-lived when Percat was caught up in an opening lap incident that resulted in an early retirement.
Percat is keen to contest the full four-round championship which will join V8 Supercars at Sydney Motorsport Park in August 24-26, before visits to Hampton Downs and Highlands Motorsport Park in New Zealand in October and November.
"It should be a cool experience," Percat told Speedcafe.com.
"I'm only doing the endurance part and I don't think I will drive the car until Sunday morning which will be a bit interesting.
"We tested at Phillip Island before the Bathurst 12 Hour but to drive something with a lot of grip and aero is quite different to a V8 Supercar.
"Anything is possible in the race but the pace at the front is going to be fast," he added.
"We have discussed competing in the other rounds but we haven't locked anything in yet.
"I'd like to try and get myself in a car at each of the rounds."
Percat will join fellow full-time V8 Supercars drivers Garth Tander and Shane van Gisbergen on the grid for this weekend's Australian Endurance Championship opener.
Tander will team up with Steve McLaughlin in a Jamec Pem Racing Audi R8 GT3, while Van Gisbergen will drive a McLaren 650S GT3 alongside Klark Quinn.
The Victorian circuit will also welcome a trio of international stars with factory Audi driver Marco Bonanomi and DTM stars Bruno Spengler and Miguel Molina all in action.
Percat says he is looking forward to testing his skills against some of Europe's elite.
"It is great to have those guys come over. It lifts the profile of the whole thing," added Percat.
"It is going to be cool to be in a similar car to compare against them."
Phillip Island will play host to a round of the Australian GT Championship held alongside the Australian Endurance Championship.
A 32 car field has entered for the sprint races with 30 cars set to do battle in Sunday's 101 lap enduro.
Australian GT Championship Phillip Island Entry List
| | | | |
| --- | --- | --- | --- |
| # | Team | Driver(s) | Car |
| 1 | Jamec Pem | Miguel Molina/Tony Bates | Audi R8 LMS |
| 2 | Jamec Pem | Stephen McLaughlan | Audi R8 LMS |
| 4 | Supabarn Supermarkets | James Koundouris/Marcus Marshall | Audi R8 LMS |
| 5 | GT Motorsport | Greg Taylor/Marco Bonanomi | Audi R8 LMS |
| 6 | Skwirk Online Education | Liam Talbot/Jake Fouracre | Audi R8 Ultra |
| 7 | Darrell Lea | Tony Quinn/Daniel Gaunt | Aston Martin Vantage GT3 |
| 8 | Maranello Motorsport | Adrian Dietz/Cameron McConville | Ferrari 458 GT3 |
| 9 | Bondi Wholefoods | Ash Samadi | Mercedes-AMG SLS GT3 |
| 11 | Objective Racing | Tony Walls | McLaren 650S GT3 |
| 14 | Taplin Real Estate | Andrew Taplin/Dean Canto | Lamborghini Gallardo R-EX |
| 19 | Hogs Breath Café/Griffith Corporation | Mark Griffith | Mercedes-AMG GT3 |
| 23 | JBS Australia | Roger Lago | Lamborghini Gallardo R-EX |
| 29 | Pirelli/Trofeo Motorsport | Jim Manolios/Ryan Millier | Lamborghini Huravan GT3 |
| 33 | Fastway Couriers | Simon Ellingham/Tim Miles | Audi R8 Ultra |
| 37 | Darrell Lea | Klark Quinn/Shane Van Gisbergen | McLaren 650S GT3 |
| 38 | Eggleston Motorsport | TBA | Mercedes-AMG GT3 |
| 48 | Interlloy M Motorsport | Justin McMillan/Glen Wood | Lamborghini Gallardo R-EX |
| 51 | AMAC Motorsport | Andrew Macpherson/Brad Shiels | Porsche 997 GT3-R |
| 59 | McLaren Melbourne | Grant Denyer/Matthew Kingsley | McLaren 650S GT3 |
| 60 | DPO | Nathan Morcom | McLaren 650S GT3 |
| 61 | Beechwood/SLR/Buildmap | Nathan Antunes/Elliot Barbour | McLaren 650S GT3 |
| 62 | Performance West Motorsport | Alex Rullo/Peter Rullo | Lamborghini Gallardo |
| 63 | Eggleston Motorsport | Peter Hackett/Dominic Storey | Mercedes-AMG GT3 |
| 80 | Maranello Motorsport | Tony D'Alberto/Graham Smyth | Ferrari 458 GT3 |
| 88 | Maranello Motorsport | Peter Edwards/John Bowe | Ferrari 488 GT3 |
| 90 | MARC GT | Morgan Haber/Bruno Spengler | BMW M6 GT3 |
| 92 | Modena Engineering | Ricky Capo | BMW Z4 GT3 |
| 95 | Miedecke Motor Group | Andrew Miedecke/George Miedecke | Aston Martin Vantage GT3 |
| 100 | SR Motorsport | Steve Richards/Max Twigg | BMW M6 GT3 |
| 222 | Scott Taylor Motorsport | Scott Taylor/Craig Baird | Mercedes-AMG GT3 |
| 777 | The Bend Motor Sport Park | Yasser Shahin | Lamborghini Gallardo R-EX |
| 911 | Walkinshaw GT3 | John Martin/Aaron Tebb | Porsche 911 GT3-R |
Australian Endurance Championship Phillip Island Entry List
| | | | |
| --- | --- | --- | --- |
| # | Team | Driver(s) | Car |
| 1 | Jamec Pem | Miguel Molina/Tony Bates | Audi R8 LMS |
| 2 | Jamec Pem | Stephen McLaughlan/Garth Tander | Audi R8 LMS |
| 4 | Supabarn Supermarkets | James Koundouris/Marcus Marshall | Audi R8 LMS |
| 5 | GT Motorsport | Greg Taylor/Marco Bonanomi | Audi R8 LMS |
| 6 | Skwirk Online Education | Liam Talbot/Jake Fouracre | Audi R8 Ultra |
| 7 | Darrell Lea | Tony Quinn/Daniel Gaunt | Aston Martin Vantage GT3 |
| 8 | Maranello Motorsport | Adrian Dietz/Cameron McConville | Ferrari 458 GT3 |
| 11 | Objective Racing | Tony Walls/Warren Luff | McLaren 650S GT3 |
| 14 | Taplin Real Estate | Andrew Taplin/Dean Canto | Lamborghini Gallardo R-EX |
| 19 | Hogs Breath Café/Griffith Corporation | Mark Griffith/Ryal Harris | Mercedes-AMG GT3 |
| 23 | JBS Australia | Roger Lago/David Russell | Lamborghini Gallardo R-EX |
| 29 | Pirelli/Trofeo Motorsport | Jim Manolios/Ryan Millier | Lamborghini Huravan GT3 |
| 33 | Fastway Couriers | Simon Ellingham/Tim Miles | Audi R8 Ultra |
| 37 | Darrell Lea | Klark Quinn/Shane Van Gisbergen | McLaren 650S GT3 |
| 38 | Eggleston Motorsport | TBA/TBA | Mercedes-AMG GT3 |
| 48 | Interlloy M Motorsport | Justin McMillan/Glen Wood | Lamborghini Gallardo R-EX |
| 51 | AMAC Motorsport | Andrew Macpherson/Brad Shiels | Porsche 997 GT3-R |
| 54 | MARC Cars Australia | Tony Alford/Beric Lynton | MARC Mazda V8 |
| 59 | McLaren Melbourne | Grant Denyer/Nathan Morcom | McLaren 650S GT3 |
| 62 | Performance West Motorsport | Nick Percat/Peter Rullo | Lamborghini Gallardo |
| 63 | Eggleston Motorsport | Peter Hackett/Dominic Storey | Mercedes-AMG GT3 |
| 80 | Maranello Motorsport | Tony D'Alberto/Graham Smyth | Ferrari 458 GT3 |
| 88 | Maranello Motorsport | Peter Edwards/John Bowe | Ferrari 488 GT3 |
| 90 | MARC GT | Morgan Haber/Bruno Spengler | BMW M6 GT3 |
| 91 | MARC Cars Australia | Keith Kassulke/Jack Smith | MARC Mazda V8 |
| 94 | MARC Cars Australia | Jake Camilleri/TBA | MARC Focus V8 |
| 95 | Miedecke Motor Group | Andrew Miedecke/George Miedecke | Aston Martin Vantage GT3 |
| 100 | SR Motorsport | Steve Richards/Max Twigg | BMW M6 GT3 |
| 222 | Scott Taylor Motorsport | Scott Taylor/Craig Baird | Mercedes-AMG GT3 |
| 777 | The Bend Motor Sport Park | Yasser Shahin/Dean Canto | Lamborghini Gallardo R-EX |
| 911 | Walkinshaw GT3 | John Martin/Duvashen Padayachee | Porsche 911 GT3-R |