Audi ace Bonanomi to make Aus GT return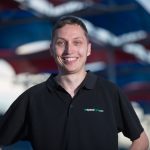 Factory Audi sportscar ace Marco Bonanomi will return to the Australian GT Championship at Phillip Island next weekend.
The Italian is set to rejoin the Audi Sport Customer Racing Australia squad alongside Greg Taylor in the operation's #5 GT Motorsport R8 GT3.
Bonanomi was drafted into the team earlier this month as a replacement for Christopher Mies in the #1 Jamec Pem Racing entry he shared with Geoff Emery at Barbagallo Raceway.
A former champion skier, Bonanomi brings a wealth of experience to the grid having raced in GT and LMP1 factory Audis.
The 31-year-old impressed on his Australian GT debut scoring a pole position followed by a sixth in Race 1, before co-driver Emery crashed in the final heat.
Bonanomi will join fellow factory Audi driver Miguel Molina at the Victorian circuit which will play host to the Australian GT Championship and the inaugural Australian Endurance Championship from May 27-29.
Gentleman driver Taylor is hoping the opportunity to work alongside Bonanomi will improve his own driving style.
The New South Wales driver has been racing alongside long-time driver coach Barton Mawer so far this season.
"We got a snippet of what he can do at Perth and I think when he gets to a fast and flowing track like Phillip Island we will see what he is capable of," Taylor told Speedcafe.com.
"I'm just hoping to try and learn as much from him as I can and take in the way he analyses that track.
"It is a good opportunity for me to learn from someone that is as experienced as he is."
Audi Sport Customer Racing Australia boss Troy Russell is pleased to have secured Bonanomi's services again.
"At this stage it is a one-off drive although that depends on his calendar," Russell told Speedcafe.com.
"Obviously we will gladly welcome him back to the team. I think Phillip Island is really going to suit his aero experience. He has had a look at the track and is pretty excited to come back."