Tander secures Audi Phillip Island GT drive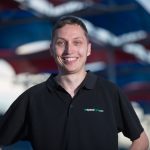 Garth Tander will team up with Jamec Pem Racing to pilot an Audi R8 GT3 at the opening round of the Australian Endurance Championship at Phillip Island.
The Holden Racing Team V8 Supercars driver will join Australian GT regular Steve McLaughlan in the #2 entry for the three hour endurance at the Victorian circuit from May 27-29.
Tander will rejoin the team having partnered McLaughlan and factory Audi star Rene Rast for this year's Bathurst 12 Hour in an effort that saw the trio finish the Mount Panorama classic eighth.
The Western Australian has enjoyed success in GT machinery at Phillip Island having won the 2014 event alongside Tony Quinn in an Aston Martin, before driving the Scotsman's McLaren to second last year.
"I've done the Phillip Island 101 for the last couple of years. I did the Bathurst 12 Hour with Steve and he asked if I was keen to do Phillip Island," Tander told Speedcafe.com.
"I'd love to have another win for sure. I have gone alright down there and Steve is just coming off his first win in a GT car at Perth."
Tander is not the only star driver in the Jamec Pem Racing outfit with Audi DTM racer Miguel Molina set to pilot the #1 car alongside Tony Bates, who will replace the injured Geoff Emery.
The 39-year-old Tander says the opportunity to compare their respective touring car categories is something he is looking forward to.
"When I shared the car with Rene Rast at Bathurst that was awesome because having him there made it that much quicker to get up to speed in those cars," added Tander.
"Miguel is an Audi factory driver in DTM so that will be interesting.
"It will be nice to talk to him about DTM. It is is more an aero-based category compared to Supercars.
"He will adapt to the GT car no problem but understanding what their championship is like will be interesting.
"They have a huge understanding of what we do with Supercars and they all want to do it."
Tander will be joined on the grid by fellow V8 Supercars star Shane van Gisbergen, who will pilot a McLaren 650S alongside Klark Quinn.
The factory McLaren Blancpain GT Series driver joined Quinn at last year's Highlands 101 in New Zealand which resulted in a victory for the pair.
The 26 car grid could also see the debut of Trofeo Motorsport's new Lamborghini Huracan if the squad is able to take delivery the car in time for the meeting.
Tander and Van Gisbergen will focus their attention on this weekend's Woodstock Winton Super Sprint before linking up with their respective GT entries.
Australian Endurance Championship Round 1 Entry List
No.
Sponsor
Driver A/B
Name
Make
Model
1
JAMEC PEM Racing
A
Miguel Molina
Audi
R8 LMS
B
Tony Bates
2
JAMEC PEM Racing
A
Steve McLaughlan
Audi
R8 LMS
B
Garth Tander
4
Supabarn Supermarkets
A
James Koundouris
Audi
R8 LMS
B
Marcus Marshall
5
GT Motorsport
A
Greg Taylor
Audi
R8 LMS
B
Barton Mawer
6
Skwirk Online Education
A
Jake Fouracre
Audi
R8 Ultra
B
Liam Talbot
7
Darrell Lea
A
Tony Quinn
Aston Martin
Vantage GT3
B
Daniel Gaunt
8
Maranello Motorsport
A
Adrian Deitz
Ferrari
458 GT3
B
Cameron McConville
11
Objective Racing
A
Tony Walls
McLaren
650S GT3
B
Warren Luff
19
Hogs Breath Café/Griffith Corporation
A
Mark Griffith
Mercedes Benz
AMG GT-S GT3
B
TBA
23
JBS Australia
A
Roger Lago
Lamborghini
R-EX
B
David Russell
29
Pirelli/Trofeo Motorsport
A
Jim Manolios
Lamborghini
Huracan GT3
B
Ryan Millier
33
Fastway Couriers
A
Simon Ellingham
Audi
R8 Ultra
B
Tim Miles
37
Darrell Lea
A
Klark Quinn
McLaren
650S GT3
B
Shane van Gisbergen
38
Eggleston Motorsport
A
TBA
Mercedes Benz
AMG GT-S GT3
B
TBA
48
Interlloy M Motorsport
A
Justin McMillan
Lamborghini
R-EX
B
Glen Wood
51
AMAC Motorsport
A
Andrew Macpherson
Porsche
997 GT3-R
B
Brad Shiels
59
McLaren Melbourne
A
Jonathon Webb
McLaren
650S GT3
B
Grant Denyer
62
Performance West Motorsport
A
Alexander Rullo
Lamborghini
Gallardo FLII
B
Peter Rullo
63
Eggleston Motorsport
A
Peter Hackett
Mercedes Benz
AMG GT-S GT3
B
Dominic Storey
88
Maranello Motorsport
A
Peter Edwards
Ferrari
488 GT3
B
John Bowe
80
Maranello Motorsport
A
Tony D'Alberto
Ferrari
458 GT3 2014
B
Graham Smythe
90
MARC GT
A
Morgan Haber
BMW AG
M6 GT3
B
Jake Camilleri
95
Miedecke Motor Group
A
Andrew Miedecke
Aston Martin
Vantage GT3
B
George Miedecke
100
SR Motorsport
A
Steve Richards
BMW
M6 GT3
B
Max Twigg
222
Scott Taylor Motorsport
A
Scott Taylor
Mercedes Benz
AMG GT-S GT3
B
Craig Baird
911
Walkinshaw GT3
A
John Martin
Porsche
911 GT3-R
B
TBA