HDT inspired TCM A9X Torana unveiled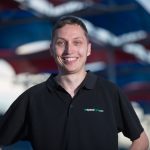 Jason Gomersall will debut a newly built Holden Dealer Team inspired A9X Torana in the Touring Cars Masters at Winton this weekend.
The entry will be the first two-door A9X Torana to compete in the category following a rule change which now allow cars constructed up to 1978 to contest the category.
Built by Matt Stone Racing, the car will run the iconic red and white colours made famous by the Holden Dealer Team during the 1970s and 1980s.
Gomersall says racing a A9X Torana has been a long held dream and cannot wait to show off the new entry at the rural Victorian circuit.
"Some of my earliest memories of touring car racing was watching the Marlboro Holden Dearler Team A9X Toranas," said Gomersall, who leads the Pro-Am Touring Car Masters points.
"As a kid I thought they were absolutely stunning-looking cars, and to my mind the MHDT A9X Torana is still, to this day, the most iconic Australian touring car ever built."
"When I first joined the category in 2012 I was keen to build a Torana hatchback, but it wasn't eligible at the time as the cut-off was up to 1976, but as soon as the 2-door did become an option I was determined to build one.
"A big thank you to the team at Matt Stone Racing for making this dream a reality."
"They have spent many, many hours to build a truly amazing TCM car, and I also have to thank my sponsors for sharing the passion for this project — especially GRK Plumbing who have allowed their branding to be altered to replicate the MHDT livery of the day."
The entry is not the only new Torana in the field with Victorian Bruce Williams set to make his TCM debut, as well in his recently finished 1974 SL/R 5000 Torana.
Williams' entry was built by renowned engineer Les Small and is liveried as a tribute to the 1975 Bathurst 1000 winner driven by Peter Brock and Brian Sampson.
Touring Car Masters Entry List  
| | | | | | | | | |
| --- | --- | --- | --- | --- | --- | --- | --- | --- |
| No | Sponsor Name | Ch Name | Surname | State | Year | Make | Model | |
| 2 | Shannons Insurance | Jim | Richards | VIC | 1972 | AMC | Javelin | |
| 4 | Skye Sands | Rusty | French | VIC | 1970 | Ford | Mustang Fastback | |
| 5 | Performance & Race Tech Services | Bruce | Williams | VIC | 1974 | Holden | Torana SL/R 5000 | |
| 7 | Werks Garage / Red Rock Winery | Rohan | Little | VIC | 1974 | Porsche | 911 RS IROC | |
| 8 | Bendigo Retro Muscle Cars | Rob | Burns | VIC | 1972 | Holden | Monaro GTS | |
| 9 | Jesus Racing | Andrew | Fisher | NSW | 1971 | Ford | Falcon XY GTHO | |
| 12 | Giraffe Civil Contracting | Adam | Garwood | TAS | 1974 | Holden | Torana SL/R 5000 | |
| 17 | Synergy Race Engines | Steve | Johnson | QLD | 1971 | Ford | Falcon XY GTHO | |
| 18 | Wilson Security / PAYCE | John | Bowe | VIC | 1974 | Holden | Torana SL/R 5000 | |
| 19 | Tincone Industrial Services | Darren | Beale | QLD | 1972 | Holden | Monaro GTS Coupe | |
| 21 | Giraffe Civil Contracting | Greg | Garwood | TAS | 1972 | Ford | Capri Perana | |
| 22 | Aussie Muscle Car Run | Graham | Stewart | SA | 1972 | Holden | Monaro GTS Coupe | |
| 30 | Thunder Road Racing Team Australia | Glenn | Seton | QLD | 1964 | Ford | Mustang Coupe | |
| 35 | iseek Racing | Jason | Gomersall | QLD | 1978 | Holden | Torana A9X Hatchback | |
| 46 | THD Motorsport | Leo | Tobin | VIC | 1969 | Ford | Boss Mustang | |
| 48 | Melbournes Cheapest Cars | Eddie | Abelnica | VIC | 1974 | Ford | Falcon XB Coupe | |
| 60 | Glennan Transport/ANGLOMOIL Lubricants | Cameron | Tilley | NSW | 1969 | Valiant | Pacer | |
| 74 | Lyndways Builders | Wayne | Mercer | VIC | 1971 | Ford | Falcon XY GTHO | |
| 85 | Whiteline Racing / King Springs | Mark | King | QLD | 1970 | Chevrolet | Camaro RS | |
| 88 | TIFS – Warehousing & Distribution | Tony | Karanfilovski | NSW | 1969 | Ford | Mustang Trans Am | |
| 90 | Werks Garage / Kalus Kenny Iterlex | Sven | Burchartz | VIC | 1974 | Porsche | 911 RS IROC | |