Audi DTM star set for Australian GT drives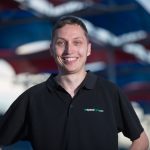 DTM driver Miguel Molina is set to join Jamec Pem Racing for the opening two rounds of the Australian Endurance Championship, beginning at Phillip Island later this month.
The 27-year-old will pilot the #1 Audi R8 GT3 at Phillip Island (May 27-29) and Sydney Motorsport Park (August 26-28) as a replacement for reigning Australian GT champion Christopher Mies.
Mies is unable to attend the events due to commitments in the ADAC GT Masters and the Blancpain Sprint Series.
He is expected to contest the final two rounds of the Australian GT sprint and endurance championships.
Molina will take over the car from fellow factory Audi driver Marco Bonanomi, who stood in for Mies at Barbagallo Raceway last weekend.
Stan Sport is the only way to watch every round of Speedseries. Click here for all the action streaming ad-free, live and on demand.
The Spaniard will bring a wealth of experience to the squad having raced for Audi in the DTM since 2010. He scored his maiden win in the German touring car series last season.
Molina made his GT3 racing debut for Audi in the 2015 Blancpain Endurance Series finale at Germany's Nurburgring.
"I think Miguel will take over from all the other Audi factory drivers we have worked with previously, without issue," Audi Customer Racing Australia boss Troy Russell told Speedcafe.com.
"We all saw how good Marco Bonanomi was at Barbagallo Raceway.
"The factory drivers all seem to be able to drive at such a high level, so we are looking forward to having him come and join us."
The team is searching for a co-driver to partner Molina for the sprint and endurance races at Phillip Island and Sydney Motorsport Park to replace the injured Geoff Emery.
Emery sustained a broken vertebra in crash at Barbagallo and has since undergone an operation at Royal Perth Hospital, where he is expected to remain for at least another week.
He has since had a back brace fitted which has allowed him to stand.
"We have had a few phone calls about the vacant drive but we haven't made any commitment yet," added Russell.
"The door is open at this stage. We want to try and find a good amateur driver that can fill the spot left by Geoff."
Audi Customer Racing Australia remains confident the damaged #1 R8 will be fixed in time for Phillip Island with parts due to arrive from Germany on Saturday afternoon.
Audi will also send out a chassis engineer to oversee the repair.