Le Brocq holds out Golding in photo finish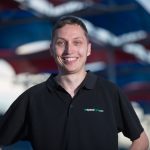 Jack Le Brocq held out James Golding in a frantic drag race to victory in the second Dunlop Series heat at Barbagallo Raceway.
The Prodrive Ford driver made a sluggish start from pole position and dropped to as low as fifth on the opening lap before the Safety Car intervened.
Le Brocq was back up to second by the time the yellows flew however due to a multi-car incident at Turn 6.
Andrew Jones and Garry Jacobson both found the sand after the former was nudged in the back by Anton De Pasquale.
While Jones was able to rejoin, series leader Jacobson was stranded, triggering the Safety Car.
Le Brocq capitalised on a mistake from Paul Dumbrell to secure the lead once racing resumed.
The early yellow made the race a time certain finish after 25 of the scheduled 28 laps.
Golding tried a move at the final corner but Le Brocq just held on to take the win by 0.03s, as Dumbrell claimed third for Eggleston Motorsport.
Kurt Kostecki produced a highly impressive drive as he charged through from 12th to finish fourth.
Todd Hazelwood ran as high as third but settled for fifth ahead of teenager Alex Rullo, who starred in the Lucas Dumbrell Commodore.
Shae Davies, Josh Kean, Taz Douglas and Macauley Jones completed the top 10.
De Pasquale came home in 18th after he received a drive-through penalty for causing the opening lap Safety Car.
Jacobson eventually finished the race in 24th position, allowing Golding to cut his series lead to 47 points.
The Dunlop Series will be back in action for Race 3 which is scheduled to start at 1240 local time.
Result: Dunlop Series Race 2, Perth
| | | | | | |
| --- | --- | --- | --- | --- | --- |
| 1 | GoGetta Racing | Jack Le Brocq | Ford Falcon FG/X | 25 | 27:23.1924 |
| 2 | Wilson Security PAYCE GRM | James Golding | Holden Commodore VF | 25 | 27:23.2286 |
| 3 | Eggleston Motorsport | Paul Dumbrell | Holden Commodore VE2 | 25 | 27:28.4968 |
| 4 | Kostecki Brothers Racing | Kurt Kostecki | Holden Commodore VF | 25 | 27:31.8506 |
| 5 | iseek Communication / MSR | Todd Hazelwood | Holden Commodore VF | 25 | 27:32.1018 |
| 6 | Castrol Racing/LD Motorsport | Alex Rullo | Holden Commodore VF | 25 | 27:33.4086 |
| 7 | Davbridge Constructions /MWM | Shae Davies | Ford Falcon FG | 25 | 27:35.0925 |
| 8 | Wynn's Racing | Josh Kean | Holden Commodore VF | 25 | 27:36.2485 |
| 9 | Eggleston Motorsport | Taz Douglas | Holden Commodore VE2 | 25 | 27:38.2825 |
| 10 | PAYCE | Macauley Jones | Holden Commodore VF | 25 | 27:39.5571 |
| 11 | Middy's Data & Electrical /MWM | Bryce Fullwood | Ford Falcon FG | 25 | 27:42.4043 |
| 12 | Wilson Security PAYCE GRM | Richard Muscat | Holden Commodore VF | 25 | 27:43.0049 |
| 13 | Cavalier Homes | Matthew Chahda | Ford Falcon FG | 25 | 27:49.7868 |
| 14 | Eggleston Motorsport | Liam McAdam | Holden Commodore VE2 | 25 | 27:51.1131 |
| 15 | Kostecki Brothers Racing | Jake Kostecki | Holden Commodore VF | 25 | 27:51.5388 |
| 16 | Auto One / MSR | Adam Marjoram | Ford Falcon FG | 25 | 27:52.4891 |
| 17 | Alliance Truck Parts Racing | Andrew Jones | Holden Commodore VF | 25 | 27:52.9705 |
| 18 | Paul Morris Motrosports | Anton de Pasquale | Ford Falcon FG | 25 | 27:57.1675 |
| 19 | Team Caltex | Renee Gracie | Ford Falcon FG | 25 | 28:07.9544 |
| 20 | Dragon Motor Racing | Chelsea Angelo | Holden Commodore VE2 | 25 | 28:15.8632 |
| 21 | Kilar Towing Equipment / STR | Mathew Palmer | Ford Falcon FG | 24 | 27:30.9869 |
| 22 | Lubrixmax | Garry Hill | Ford Falcon FG | 24 | 27:32.0955 |
| 23 | S&J Automotive | Dan Day | Ford Falcon FG | 24 | 27:39.2048 |
| 24 | Challenger Valve Racing | Garry Jacobson | Ford Falcon FG/X | 22 | 27:54.9176 |