Emery hospitalised in Australian GT crash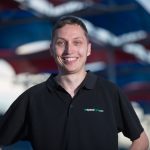 Geoff Emery has been hospitalised following a nasty crash which forced a lengthy suspension to the second race of the Australian GT Championship at Barbagallo Raceway.
The Australian GT regular suffered a hard hit with the wall at the exit of the final corner on the opening lap of the 60 minute encounter.
The Jamec Pem Audi encountered slight contact with Roger Lago's Lamborghini and then lost control over the kerb before slamming head on into the wall.
After 19 minutes behind the Safety Car, officials elected to suspend the race to allow medical teams to extricate Emery through the R8 GT3s' roof.
The experienced Victorian racer was conscious and complained of back pain in the aftermath of the crash.
Following his extraction he was then taken to Royal Perth Hospital to assess his condition.
Racing resumed with 20 minutes remaining after repairs were made to the barriers.
Organisers chose to add the compulsory pit stop time to overall race times as co-drivers climbed aboard the cars for the remainder of the race.
Klark Quinn, who inherited the lead before the Safety Car was deployed, controlled the restart and looked on course to take the flag before a late charge from Craig Baird in the Scott Taylor Motorsport Mercedes AMG GT3.
Baird managed to grab the lead in the final laps to take the victory on the road from Quinn (McLaren) and John Martin in the Walkinshaw Racing Porsche.
However, once the compulsory times were added Quinn was demoted to fourth with Nathan Antunes taking second from Martin.
Jonathon Webb brought his McLaren 650S home in fifth ahead of Nathan Morcom (McLaren), Glen Wood (Lamborghini), Barton Mawer (Audi), Peter Rullo (Lamborghini) and James Koundouris (Audi).
*Championship officials have since confirmed that Emery is in 'good spirits' and has been visited by co-driver Marco Bonanomi in hospital.
Result: Australian GT Championship Race 2
| | | | | | |
| --- | --- | --- | --- | --- | --- |
| 1 | Scott Taylor Motorsport | S.Taylor/C.Baird | Mercedes Benz AMG GT | 33 | 01:03:12.0557 |
| 2 | Beechwood / SLR / Buildmap | N.Antunes/E.Barbour | McLaren 650S GT3 | 33 | 01:03:19.8055 |
| 3 | Walkinshaw GT3 | J.Martin/A.Tebb | Porsche 911 GT3-R | 33 | 01:03:23.4764 |
| 4 | Darrell Lea | Klark Quinn (QLD) | McLaren 650S GT3 | 33 | 01:03:23.6377 |
| 5 | McLaren Melbourne | J.Webb/M.Kingsley | McLaren 650S GT3 | 33 | 01:03:27.4728 |
| 6 | DPO | Nathan Morcom | McLaren 650S GT3 | 33 | 01:03:28.1564 |
| 7 | Interlloy M Motorsport | J.McMillan/G.Wood | Lamborghini R-EX | 33 | 01:03:29.8135 |
| 8 | GT Motorsport | G.Taylor/B.Mawer | Audi R8 LMS | 33 | 01:03:36.4440 |
| 9 | Performance West | Peter Rullo (WA) | Lamborghini Gallardo | 33 | 01:03:38.2041 |
| 10 | Supabarn Supermarkets | J.Koundouris/M.Marshall | Audi R8 LMS | 33 | 01:03:39.1995 |
| 11 | Objective Racing | Tony Walls (QLD) | McLaren 650S GT3 | 33 | 01:03:42.5315 |
| 12 | JBS Australia | Roger Lago (QLD) | Lamborghini R-EX | 33 | 01:03:43.3463 |
| 13 | Exotic Track Days | R.Harris/S.Hookey | Mercedes AMG GT3 SLS | 33 | 01:03:45.0020 |
| 14 | Darrell Lea | Tony Quinn (QLD) | Aston Martin Vantage | 33 | 01:03:47.1005 |
| 15 | Modena Engineering | Ricky Capo (VIC) | BMW Z4 GT3 | 33 | 01:03:51.5311 |
| 16 | Taplin Real Estate | A.Taplin/D.Canto | Lamborghini Gallardo | 33 | 01:03:54.0070 |
| 17 | JAMEC PEM Racing | Stephen McLaughlan (VIC) | Audi R8 LMS | 33 | 01:04:01.9382 |
| 18 | SR Motorsport | S.Richards/M.Twigg | BMW M6 GT3 | 33 | 01:04:25.9004 |
| 19 | Bondi Wholefoods | Ash Samadi (VIC) | Mercedes Benz AMG SL | 32 | 01:03:42.2006 |
| DNF | JAMEC PEM Racing | Geoff Emery (TAS) | Audi R8 LMS | | |