Jones snatches last gasp Dunlop Series pole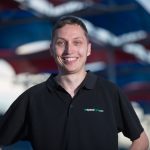 Andrew Jones claimed pole position for the Dunlop Series with a last gasp effort in an eventful qualifying session at Barbagallo Raceway.
The field was greeted with a damp track but grip levels changed rapidly as the session progressed and the surface dried.
Provisional pole changed hands on several occasions as the field switched from wet to slick tyres with 10 minutes remaining.
A flurry of late times on slick tyres saw Jones jump to the top with a 59.72 which snatched pole away from Jack Le Brocq by 0.0013s.
A highly impressive run from Dunlop Series rookie Anton De Pasquale in the final minutes saw the Paul Morris Motorsport driver claim third just 0.1s adrift of Jones.
Shae Davies was one of many drivers to enjoy a spell at the top of the times but in the end he had to settle for fourth ahead of Brad Jones Racing's Josh Kean.
Series leader Garry Jocobson was shuffled down to sixth in front of Macauley Jones and James Golding.
Paul Dumbrell was among the last runners to switch to slick tyres which saw him fire in a couple of laps on the fresh rubber.
The Eggleston Motorsport driver ended up ninth while local racer Kurt Kostecki, who was among the first to fit slick tyres, rounded out the top 10.
Todd Hazelwood will start from 11th ahead of Taz Douglas, who suffered a small off during the session.
Result: Dunlop Series Qualifying, Perth
| | | | | | |
| --- | --- | --- | --- | --- | --- |
| 1 | Alliance Truck Parts Racing | Andrew Jones | Holden Commodore VF | 0:59.7233 | |
| 2 | GoGetta Racing | Jack Le Brocq | Ford Falcon FG/X | 0:59.7246 | 00.0013 |
| 3 | Paul Morris Motrosports | Anton de Pasquale | Ford Falcon FG | 0:59.8850 | 00.1617 |
| 4 | DavBridge Constructions /MWM | Shae Davies | Ford Falcon FG | 1:00.0550 | 00.3317 |
| 5 | Wynn's Racing | Josh Kean | Holden Commodore VF | 1:00.1385 | 00.4152 |
| 6 | Challenger Valve Racing | Garry Jacobson | Ford Falcon FG/X | 1:00.4646 | 00.7413 |
| 7 | PAYCE | Macauley Jones | Holden Commodore VF | 1:00.5279 | 00.8046 |
| 8 | Wilson Security PAYCE GRM | James Golding | Holden Commodore VF | 1:00.9936 | 01.2703 |
| 9 | Eggleston Motorsport | Paul Dumbrell | Holden Commodore VE2 | 1:01.2166 | 01.4933 |
| 10 | Kostecki Brothers Racing | Kurt Kostecki | Holden Commodore VF | 1:01.3533 | 01.6300 |
| 11 | iseek Communication / MSR | Todd Hazelwood | Holden Commodore VF | 1:01.5599 | 01.8366 |
| 12 | Eggleston Motorsport | Taz Douglas | Holden Commodore VE2 | 1:01.5632 | 01.8399 |
| 13 | Castrol Racing/LD Motorsport | Alex Rullo | Holden Commodore VF | 1:01.5905 | 01.8672 |
| 14 | Wilson Security PAYCE GRM | Richard Muscat | Holden Commodore VF | 1:01.6275 | 01.9042 |
| 15 | Middy's Data & Electrical /MWM | Bryce Fullwood | Ford Falcon FG | 1:01.9355 | 02.2122 |
| 16 | Auto One / MSR | Adam Marjoram | Ford Falcon FG | 1:01.9518 | 02.2285 |
| 17 | Dragon Motor Racing | Chelsea Angelo | Holden Commodore VE2 | 1:01.9944 | 02.2711 |
| 18 | Eggleston Motorsport | Liam McAdam | Holden Commodore VE2 | 1:02.4231 | 02.6998 |
| 19 | Cavalier Homes | Matthew Chahda | Ford Falcon FG | 1:02.8307 | 03.1074 |
| 20 | Lubrixmax | Garry Hill | Ford Falcon FG | 1:03.9310 | 04.2077 |
| 21 | S&J Automotive | Dan Day | Ford Falcon FG | 1:04.1777 | 04.4544 |
| 22 | Kilar Towing Equipment / STR | Mathew Palmer | Ford Falcon FG | 1:04.3723 | 04.6490 |
| 23 | Kostecki Brothers Racing | Jake Kostecki | Holden Commodore VF | 1:04.6040 | 04.8807 |
| 24 | Team Caltex | Renee Gracie | Ford Falcon FG | 1:05.5483 | 05.8250 |