Quinn continues to rebuff V8 interest in Aus GT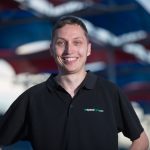 Australian GT boss Tony Quinn has reiterated that he has no desire to sell the championship amid continual moves from V8 Supercars.
Australia's premier race series has been linked to a possible takeover of the booming GT3 category since 2014.
Since reports of V8 Supercars' initial interest in taking over the series, the organisation has taken control of Australia's growing international GT3 event, the Bathurst 12 Hour.
V8 Supercars has also expressed a desire to gain more control of support categories.
This year the group has taken over the category management of the V8 Utes Racing Series after its parent company went into voluntary administration in the off season.
Quinn revealed that V8 Supercars' continued interest in the championship remains following brief discussions at the Australian Grand Prix.
However, the Scottish-born entrepreneur, who admitted that no offers have been tabled or discussed, is adamant that he has no plans to offload the championship.
"They (V8s) have made nosies (again) but I have told them absolutely that I am not selling it, I won't sell it, I don't need to sell it and I'm enjoying it (running the championship)," Quinn told Speedcafe.com.
While Quinn's stance remains unmoved regarding the future of his championship, he is keen to continue working with V8 Supercars to help promote both championships.
Australian GT will feature on the support card at four V8 Supercars events this season, including three sprint rounds and a three hour endurance race at Sydney Motorsport Park in August.
"I think we are doing a reasonably good job (at running the championship)," added Quinn.
"What I did say to them (V8 Supercars) is we should promote the fact that the GTs are coming to Sydney Motorsport Park to try and see if we can get any interest from another sector of the public that may not normally go to a V8 race."