Miedecke returns to Aus GT with Matt Stone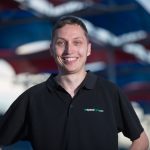 Veteran racer Andrew Miedecke and son George will make a return to the Australian GT Championship at next week's Australian Grand Prix meeting.
The duo will pilot an upgraded Aston Martin Vantage GT3 which ran in the championship under the banner of Ross Stone Racing in the second half of last year.
Next weekend the car will be run by Ross Stone's nephew Matt Stone as the Miedeckes contemplate the extent of their GT program for 2016.
Andrew Miedecke revealed he has competed in his final Touring Car Masters event at the Clipsal 500 last weekend after deciding to focus on sharing the Aston Martin with his son.
George Miedecke spent last season competing in the V8 Utes Racing Series with Matt Stone Racing, finishing sixth in the standings.
"My feeling is I can't drive forever and I have had a wonderful time driving the Camaro (in Touring Car Masters)," Miedecke told Speedcafe.com.
"It was a great way to spend the latter part of my career, but before I stop it has always been an ambition of mine to share a car with my son George.
"That is why I bought the Aston Martin and that is what we are going to be doing.
"The car has been upgraded, Matt Stone Racing is going to run it and we are looking forward to coming back to GT.
"We will see how we go at the Grand Prix and we will make our decisions for the rest of the year from there."
Miedecke says the move to Matt Stone Racing arose after his arrangement with Ross Stone had come to an end.
"The deal with Ross was always a bit of a partnership as Ross and I go back until the mid 80s," added Miedecke.
"Ross was showing an interest in getting into GTs.
"At the end of the year our arrangement was only for a couple of races.
"Ross started to do other things and Matt had already run George in Utes and Dunlop so he was the obvious choice."
Matt Stone Racing currently runs two V8 Supercars in the Dunlop Series, for drivers Todd Hazelwood and Adam Marjoram, as well as fielding entries in the Utes and Touring Car Masters.
Ross Stone is yet to confirm future plans for his team, having missed the Bathurst 12 Hour and start of the Australian GT season.