Winterbottom, Whincup share Sydney poles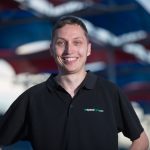 Mark Winterbottom and Jamie Whincup claimed the pole positions for the two 125km races at the Coates Hire Sydney 500.
The Prodrive driver saved his best until the final moments of the first 10 minute qualifying session as he posted a 127.7s which was just enough to hang on to pole position from Shane Van Gisbergen.
The session could prove pivotal in the championship race with Craig Lowndes due to start from the back of the grid after he made contact with the tyre wall at Turn 11 late in the hit-out.
"It's awesome the boys and girls have worked too hard overnight turning the car," said Winterbottom.
"We are in the right position to have a go when doing those laps I'm nervous but to get pole is great. They told me I was P1 and I lost my mind a bit but I'm rapt with that lap."
Whincup emerged as the star of the second session with his last gasp 1:27.6s claiming pole for Race 35 from David Reynolds and van Gisbergen.
Winterbottom dropped to fourth in the dying minutes but he starts crucially ahead of Lowndes who could only manage a time good enough for ninth after a quick repair on his car in the break between sessions.
"There is always risk and reward and we see what happens when you push the limits. I'm disappointed obviously but we will see what happens in the races," said Lowndes.
Qualifying Race 34
Van Gisbergen once again showed his class in the first session as he set the initial pace on older tyres.
The effort was on course to net a pole position before a last gasp run from Winterbottom denied the Kiwi from taking pole.
James Courtney showed strong pace behind the wheel of the HRT Commodore to secure third ahead of Jason Bright and Whincup.
Tim Slade was sixth while Rick Kelly, James Moffat, Fabian Coulthard and Garth Tander rounded out the top 10.
Moffat's session ended premature when he clouted the tyre wall shortly before Lowndes' trip to the barriers at Turn 11.
Qualifying Race 35
The second session followed a similar pattern to the first with Van Gisbergen lighting up the timing screens early on before Whincup's late show.
Reynolds was another driver to make the most of fresh rubber in the final minutes as he slotted into second spot which demoted van Gisbergen down to third.
Winterbottom had to settle for fourth ahead of Courtney, McLaughlin, Scott Pye, Lee Holdsworth, Lowndes and Bright.
Result:V8 Supercars Coates Hire Sydney 500 Qualifying Race 34
| | | | | | |
| --- | --- | --- | --- | --- | --- |
| 1 | Pepsi Max Crew | Mark Winterbottom | Ford Falcon FG/X | 1:27.7596 | |
| 2 | Team Darrell Lea STIX | Shane Van Gisbergen | Holden Commodore VF | 1:27.8534 | 00.0938 |
| 3 | Holden Racing Team | James Courtney | Holden Commodore VF | 1:28.0602 | 00.3006 |
| 4 | Team BOC | Jason Bright | Holden Commodore VF | 1:28.0857 | 00.3261 |
| 5 | Red Bull Racing Australia | Jamie Whincup | Holden Commodore VF | 1:28.0886 | 00.3290 |
| 6 | Supercheap Auto Racing | Tim Slade | Holden Commodore VF | 1:28.1310 | 00.3714 |
| 7 | Nissan Motorsport | Rick Kelly | Nissan Altima | 1:28.1784 | 00.4188 |
| 8 | Nissan Motorsport | James Moffat | Nissan Altima | 1:28.3448 | 00.5852 |
| 9 | Freightliner Racing | Fabian Coulthard | Holden Commodore VF | 1:28.4387 | 00.6791 |
| 10 | Holden Racing Team | Garth Tander | Holden Commodore VF | 1:28.5988 | 00.8392 |
| 11 | Wilson Security Racing GRM | Scott McLaughlin | Volvo S60 | 1:28.6010 | 00.8414 |
| 12 | DJR Team Penske | Scott Pye | Ford Falcon FG/X | 1:28.6391 | 00.8795 |
| 13 | Wilson Security Racing GRM | David Wall | Volvo S60 | 1:28.7194 | 00.9598 |
| 14 | Nissan Motorsport | Michael Caruso | Nissan Altima | 1:28.7240 | 00.9644 |
| 15 | Erebus Motorsport V8 | Will Davison | Mercedes E63 AMG | 1:28.7814 | 01.0218 |
| 16 | Repair Management Aust Racing | Jack Perkins | Holden Commodore VF | 1:28.7883 | 01.0287 |
| 17 | GB Galvanizing Racing | Dale Wood | Holden Commodore VF | 1:28.8152 | 01.0556 |
| 18 | The Bottle-O Racing Team | David Reynolds | Ford Falcon FG/X | 1:28.8631 | 01.1035 |
| 19 | Walkinshaw Racing | Lee Holdsworth | Holden Commodore VF | 1:28.9066 | 01.1470 |
| 20 | Pepsi Max Crew | Steve Owen | Ford Falcon FG/X | 1:28.9944 | 01.2348 |
| 21 | Nissan Motorsport | Todd Kelly | Nissan Altima | 1:29.2639 | 01.5043 |
| 22 | Erebus Motorsport V8 | Alex Davison | Mercedes E63 AMG | 1:29.3358 | 01.5762 |
| 23 | Super Black Racing | Chris Pither | Ford Falcon FG/X | 1:29.3939 | 01.6343 |
| 24 | Team Cooldrive | Tim Blanchard | Holden Commodore VF | 1:29.6713 | 01.9117 |
| 25 | Red Bull Racing Australia | Craig Lowndes | Holden Commodore VF | 1:29.7398 | 01.9802 |
Result:V8 Supercars Coates Hire Sydney 500 Qualifying Race 35
| | | | | | |
| --- | --- | --- | --- | --- | --- |
| 1 | Red Bull Racing Australia | Jamie Whincup | Holden Commodore VF | 1:27.6420 | |
| 2 | The Bottle-O Racing Team | David Reynolds | Ford Falcon FG/X | 1:27.7747 | 0:00.1327 |
| 3 | Team Darrell Lea STIX | Shane Van Gisbergen | Holden Commodore VF | 1:27.7780 | 0:00.1360 |
| 4 | Pepsi Max Crew | Mark Winterbottom | Ford Falcon FG/X | 1:27.8028 | 0:00.1608 |
| 5 | Holden Racing Team | James Courtney | Holden Commodore VF | 1:27.8376 | 0:00.1956 |
| 6 | Wilson Security Racing GRM | Scott McLaughlin | Volvo S60 | 1:28.0089 | 0:00.3669 |
| 7 | DJR Team Penske | Scott Pye | Ford Falcon FG/X | 1:28.1214 | 0:00.4794 |
| 8 | Walkinshaw Racing | Lee Holdsworth | Holden Commodore VF | 1:28.3275 | 0:00.6855 |
| 9 | Red Bull Racing Australia | Craig Lowndes | Holden Commodore VF | 1:28.3353 | 0:00.6933 |
| 10 | Team BOC | Jason Bright | Holden Commodore VF | 1:28.4276 | 0:00.7856 |
| 11 | Erebus Motorsport V8 | Will Davison | Mercedes E63 AMG | 1:28.4394 | 0:00.7974 |
| 12 | Nissan Motorsport | Rick Kelly | Nissan Altima | 1:28.4753 | 0:00.8333 |
| 13 | Freightliner Racing | Fabian Coulthard | Holden Commodore VF | 1:28.5140 | 0:00.8720 |
| 14 | Nissan Motorsport | Michael Caruso | Nissan Altima | 1:28.5242 | 0:00.8822 |
| 15 | Holden Racing Team | Garth Tander | Holden Commodore VF | 1:28.5288 | 0:00.8868 |
| 16 | Repair Management Aust Racing | Jack Perkins | Holden Commodore VF | 1:28.5739 | 0:00.9319 |
| 17 | GB Galvanizing Racing | Dale Wood | Holden Commodore VF | 1:28.6929 | 0:01.0509 |
| 18 | Nissan Motorsport | Todd Kelly | Nissan Altima | 1:28.8791 | 0:01.2371 |
| 19 | Wilson Security Racing GRM | David Wall | Volvo S60 | 1:28.8810 | 0:01.2390 |
| 20 | Super Black Racing | Chris Pither | Ford Falcon FG/X | 1:29.0149 | 0:01.3729 |
| 21 | Team Cooldrive | Tim Blanchard | Holden Commodore VF | 1:29.2418 | 0:01.5998 |
| 22 | Erebus Motorsport V8 | Alex Davison | Mercedes E63 AMG | 1:29.2823 | 0:01.6403 |
| 23 | Pepsi Max Crew | Steve Owen | Ford Falcon FG/X | 1:37.8950 | |
| | | | | | |
| | | | | | |