Winterbottom claims maiden V8 Supercars crown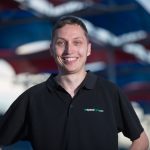 Mark Winterbottom has claimed a breakthrough V8 Supercars title with a third place finish in Race 35 at the Coates Hire Sydney 500, won by Jamie Whincup.
The Prodrive driver only needed to finish 20th or better to claim the coveted prize in Australian motorsport following his fifth pace finish in Race 34.
The triumph comes after 10 seasons competing in V8 Supercars at Prodrive Racing Australia, formerly known as Ford Performance Racing.
Winterbottom's success represents the team's first V8 Supercars drivers' title.
"I have a few tears under this visor," said Winterbottom upon realising his achievement.
"I'm so emotional, I'm speechless it is just awesome. Thanks to all the guys at the team.
"I've dreamt about this for such a long time."
Whincup produced a second commanding victory as he led home David Reynolds and Winterbottom at the flag.
The Red Bull driver dominated the race from start to finish as he quickly opened up a healthy lead over Reynolds in the opening the laps.
A Safety Car period caused by Prodrive' Steve Owen, who came to a halt with an engine issue on lap 10, briefly threatened to change the complexion of the race.
However, such was Whincup's advantage he managed to pit during the Safety Car and rejoin in the lead.
Reynolds suffered a brief scare when smoke began to put from his front left, but it failed to prevent him from from claiming second, ahead of Winterbottom, who produced a slick drive to finish a comfortable third.
The Holden Racing Team's James Courtney enjoyed a relatively lonely race to finish fourth ahead of Volvo's Scott McLaughlin and Shane van Gisbergen.
Craig Lowndes witnessed his title hopes disappear in seventh, while Rick Kelly, Scott Pye and Lee Holdsworth completed the top 10.
In a race of few incidents, Nissan's James Moffat produced the only other dramatic moment when he misjudged the chicane and ploughed into the tyre barriers, breaking his front right suspension.
Result: V8 Supercars Coates Hire Sydney 500 Race 35
| | | | | | |
| --- | --- | --- | --- | --- | --- |
| 1 | Red Bull Racing Australia | Jamie Whincup | Holden Commodore VF | 37 | 58:11.3197 |
| 2 | The Bottle-O Racing Team | David Reynolds | Ford Falcon FG/X | 37 | 58:13.1405 |
| 3 | Pepsi Max Crew | Mark Winterbottom | Ford Falcon FG/X | 37 | 58:16.8014 |
| 4 | Holden Racing Team | James Courtney | Holden Commodore VF | 37 | 58:18.4445 |
| 5 | Wilson Security Racing GRM | Scott McLaughlin | Volvo S60 | 37 | 58:19.3666 |
| 6 | Team Darrell Lea STIX | Shane Van Gisbergen | Holden Commodore VF | 37 | 58:21.6940 |
| 7 | Red Bull Racing Australia | Craig Lowndes | Holden Commodore VF | 37 | 58:22.0867 |
| 8 | Nissan Motorsport | Rick Kelly | Nissan Altima | 37 | 58:22.5449 |
| 9 | DJR Team Penske | Scott Pye | Ford Falcon FG/X | 37 | 58:25.9689 |
| 10 | Walkinshaw Racing | Lee Holdsworth | Holden Commodore VF | 37 | 58:26.4235 |
| 11 | Erebus Motorsport V8 | Will Davison | Mercedes E63 AMG | 37 | 58:30.6414 |
| 12 | Holden Racing Team | Garth Tander | Holden Commodore VF | 37 | 58:32.4958 |
| 13 | GB Galvanizing Racing | Dale Wood | Holden Commodore VF | 37 | 58:39.8836 |
| 14 | Freightliner Racing | Fabian Coulthard | Holden Commodore VF | 37 | 58:40.4131 |
| 15 | Nissan Motorsport | Michael Caruso | Nissan Altima | 37 | 58:41.2614 |
| 16 | Nissan Motorsport | Todd Kelly | Nissan Altima | 37 | 58:46.4834 |
| 17 | Repair Management Aust Racing | Jack Perkins | Holden Commodore VF | 37 | 58:47.8312 |
| 18 | Super Black Racing | Chris Pither | Ford Falcon FG/X | 37 | 58:48.6766 |
| 19 | Wilson Security Racing GRM | David Wall | Volvo S60 | 37 | 58:49.2849 |
| 20 | Supercheap Auto Racing | Tim Slade | Holden Commodore VF | 37 | 58:49.6902 |
| 21 | Team Cooldrive | Tim Blanchard | Holden Commodore VF | 37 | 59:05.5153 |
| 22 | Erebus Motorsport V8 | Alex Davison | Mercedes E63 AMG | 37 | 59:11.7007 |
| 23 | Team BOC | Jason Bright | Holden Commodore VF | 35 | 58:55.4473 |
| DNF | Nissan Motorsport | James Moffat | Nissan Altima | 17 | 29:26.9484 |
| DNF | Pepsi Max Crew | Steve Owen | Ford Falcon FG/X |  8 | 13:03.4699 |
Championship Standings
| | | |
| --- | --- | --- |
| 1 | Mark Winterbottom | 3126 |
| 2 | Craig Lowndes | 2906 |
| 3 | David Reynolds | 2799 |
| 4 | Shane van Gisbergen | 2562 |
| 5 | Garth Tander | 2512 |
| 6 | Jamie Whincup | 2509 |
| 7 | Fabian Coulthard | 2464 |
| 8 | Scott McLaughlin | 2157 |
| 9 | James Courtney | 2066 |
| 10 | Rick Kelly | 2025 |
| 11 | Chaz Mostert | 2017 |
| 12 | Michael Caruso | 1808 |
| 13 | Tim Slade | 1764 |
| 14 | Jason Bright | 1626 |
| 15 | Will Davison | 1621 |
| 16 | Lee Holdsworth | 1603 |
| 17 | Todd Kelly | 1598 |
| 18 | James Moffat | 1586 |
| 19 | Scott Pye | 1505 |
| 20 | Dale Wood | 1283 |
| 21 | Tim Blanchard | 1209 |
| 22 | Nick Percat | 1204 |
| 23 | Andre Heimgartner | 1068 |
| 24 | David Wall | 1064 |
| 25 | Ash Walsh | 769 |
| 26 | Jack Perkins | 747 |
| 27 | Warren Luff | 747 |
| 28 | Dean Canto | 733 |
| 29 | Steve Owen | 706 |
| 30 | Jonathan Webb | 699 |
| 31 | Steven Richards | 681 |
| 32 | Cameron Waters | 595 |
| 33 | Luke Youlden | 516 |
| 34 | David Russell | 492 |
| 35 | Alex Premat | 492 |
| 36 | Tony D'Alberto | 462 |
| 37 | Sebastien Bourdais | 423 |
| 38 | Taz Douglas | 416 |
| 39 | Russell Ingall | 414 |
| 40 | Paul Dumbrell | 410 |
| 41 | Dean Fiore | 399 |
| 42 | Marcos Ambrose | 395 |
| 43 | Andrew Jones | 345 |
| 44 | Macauley Jones | 327 |
| 45 | Alex Davison | 327 |
| 46 | Karl Reindler | 288 |
| 47 | Alex Buncombe | 276 |
| 48 | Chris Pither | 264 |
| 49 | Oliver Gavin | 258 |
| 50 | Ant Pedersen | 185 |
| 51 | Jack Le Brocq | 144 |
| 52 | Aaren Russell | 108 |
| 53 | Drew Russell | 108 |
| 54 | Simona de Silvestro | 84 |
| 55 | Renee Gracie | 84 |