Whincup wins as Frosty edges closer to title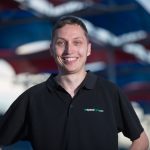 Jamie Whincup produced a faultless drive to win Race 34 at the Coates Hire Sydney 500 while Mark Winterbottom edged closer to a maiden V8 Supercars Championship title.
The Red Bull driver assumed the lead by virtue of a slick pit stop from his crew that saw him jump Shane Van Gisbergen who slipped by Winterbottom on lap 2 to head the field.
Van Gisbergen pushed Whincup hard throughout the race but was unable to launch a serious attack for the lead.
Pole-sitter Winterbottom led the opening lap but slipped down the order to fifth as the race progressed which provided a valuable points haul in his quest for the title.
Craig Lowndes, who started from the back, waited until the latter stages to make his pit stop before fighting his way up to 15th spot to prolong the title fight.
Winterbottom now needs to finish 20th or better in Race 35 to claim the crown.
Brad Jones Racing's Jason Bright enjoyed a strong run throughout to claim the final podium ahead of the Holden Racing Team's James Courtney.
Tim Slade pushed Winterbottom hard in the closing stages as he secured sixth spot, while Volvo's Scott McLaughlin, David Reynolds and Fabian Coulthard completed the top 10.
The race was devoid of any real incidents with the Safety Car remaining in the pits during a race for the first time in the event's history.
The only real moment came when James Moffat and Whincup made slight contact at the start resulting in damage to the front right of the Nissan.
Erebus Motorsport's Will Davison led the race for a long period as he waited until the final third of the race to make his pit stop, which dropped him to 13th spot at the flag.
Result: V8 Supercars Coates Hire Sydney 500 Race 34
| | | | | | |
| --- | --- | --- | --- | --- | --- |
| 1 |  Red Bull Racing Australia | Jamie Whincup | Holden Commodore VF | 37 | 56:13.3631 |
| 2 |  Team Darrell Lea STIX | Shane Van Gisbergen | Holden Commodore VF | 37 | 56:14.4487 |
| 3 |  Team BOC | Jason Bright | Holden Commodore VF | 37 | 56:27.3999 |
| 4 |  Holden Racing Team | James Courtney | Holden Commodore VF | 37 | 56:28.7234 |
| 5 |  Pepsi Max Crew | Mark Winterbottom | Ford Falcon FG/X | 37 | 56:35.8701 |
| 6 |  Supercheap Auto Racing | Tim Slade | Holden Commodore VF | 37 | 56:36.3377 |
| 7 |  Nissan Motorsport | Rick Kelly | Nissan Altima | 37 | 56:37.0013 |
| 8 |  Wilson Security Racing GRM | Scott McLaughlin | Volvo S60 | 37 | 56:38.1368 |
| 9 |  The Bottle-O Racing Team | David Reynolds | Ford Falcon FG/X | 37 | 56:38.8379 |
| 10 |  Freightliner Racing | Fabian Coulthard | Holden Commodore VF | 37 | 56:41.5516 |
| 11 |  Nissan Motorsport | Todd Kelly | Nissan Altima | 37 | 56:42.0942 |
| 12 |  Nissan Motorsport | Michael Caruso | Nissan Altima | 37 | 56:44.2792 |
| 13 |  Erebus Motorsport V8 | Will Davison | Mercedes E63 AMG | 37 | 56:45.7047 |
| 14 |  GB Galvanizing Racing | Dale Wood | Holden Commodore VF | 37 | 56:46.1099 |
| 15 |  Red Bull Racing Australia | Craig Lowndes | Holden Commodore VF | 37 | 56:47.2308 |
| 16 |  DJR Team Penske | Scott Pye | Ford Falcon FG/X | 37 | 56:58.6263 |
| 17 |  Repair Management Aust Racing | Jack Perkins | Holden Commodore VF | 37 | 57:03.2788 |
| 18 |  Walkinshaw Racing | Lee Holdsworth | Holden Commodore VF | 37 | 57:03.5910 |
| 19 |  Wilson Security Racing GRM | David Wall | Volvo S60 | 37 | 57:08.8913 |
| 20 |  Pepsi Max Crew | Steve Owen | Ford Falcon FG/X | 37 | 57:27.8282 |
| 21 |  Erebus Motorsport V8 | Alex Davison | Mercedes E63 AMG | 37 | 57:31.5805 |
| 22 |  Holden Racing Team | Garth Tander | Holden Commodore VF | 37 | 57:44.6840 |
| 23 |  Super Black Racing | Chris Pither | Ford Falcon FG/X | 36 | 56:40.5653 |
| 24 |  Nissan Motorsport | James Moffat | Nissan Altima | 34 | 56:20.4346 |
| 25 |  Team Cooldrive | Tim Blanchard | Holden Commodore VF | 32 | 56:24.3662 |