Britain to launch Aussie V8 touring car series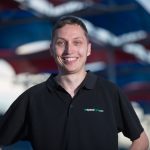 Britcar organisers plan to run a Holden Commodore-based V8 touring car series in Britain next year.
The operation, which currently promotes the popular Britcar Endurance Championship and Britcar 24 Hour race at Silverstone, has secured 22 cars previously used in the now defunct Middle East Supercar Championship.
The production-based VE model Holdens feature similar bodywork compared to their contemporary V8 Supercar models and are powered by 450 horsepower Chevrolet LSX engines.
The cars have sat in storage in Bahrain since the Middle East championship folded several years ago.
Britcar director James Tucker has been a long time admirer of V8 Supercars and sees this as a opportunity to offer British drivers and motor racing fans a taste of Australian styled motorsport.
The Britcar V8 Championship is currently talking to several popular UK circuits with a view to publishing a six round, 18 race calendar.
Tucker has offered an invite for any past or present V8 Supercars drivers to make a guest appearance in the series.
"I came across this lot of cars and we managed to secure them," Tucker told Speedcafe.com.
"I'm looking at small circuits because of the visual experience, I think it will produce very tight racing especially if we keep the track short.
"I think generally it's the most positive thing I've done over the last few years.
"If it doesn't clash with anything I wouldn't mind if one or two of the V8 boys from Australia would like to come over and have a guest drive and spend a weekend with us."
Britcar is expected to officially launch the series in the coming weeks.