Hunt sets sights on Bathurst 12 Hour drive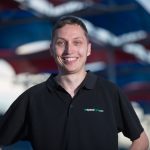 Freddie Hunt, the son former Formula 1 world champion James Hunt, is angling for a drive in next year's Bathurst 12 Hour as he looks to build a career in GT racing.
The 27-year-old is making his Australian racing debut as he joins the Aussie Racing Cars grid at this weekend's Skycity Triple Crown.
Hunt, who has spent the majority of his career racing single seaters, was offered a drive in the popular one make category last month, with the Englishman set to race a new Hyundai Elantra shelled car at Hidden Valley.
The Brit posted the 11th fastest time in his maiden run in today's practice session.
While he expects the Aussie Racing Cars outing to be a one-off, Hunt is keen to return to Australia to contest the growing Bathurst 12 Hour endurance at Mount Panorama in February.
Stan Sport is the only way to watch every round of Speedseries. Click here for all the action streaming ad-free, live and on demand.
The son of the 1976 F1 world champion kicked off his GT racing career with a run at the Britcar 24 Hour behind the wheel of a Jaguar XKR-S.
"It's my first time in Australia and I have been looking forward to coming here for some time so it's perfect," Hunt told Speedcafe.com.
"All I can expect is to have fun I have never been in an Aussie Racing Car or at the track so just going to have to wait and see.
"At the moment it looks like a one-off drive but you never know.
"We have already been talking about getting myself back out for the Bathurst 12 Hour.
"I don't know a huge amount about the event but it would be awesome to race in it.
"I've done some work in the simulator and the track is awesome. There are not many races I would chose over that I'd love to do it.
"GT racing is what I'm working on now and looking at a deal to do the rest of the Britcar series and hopefully get into Blancpain next year, but the deal is not signed yet, so anything can happen.
"Le Mans is the long term target and Britcar and Blancpain GT Series is the perfect training for that."
Hunt was unaware of his father exploits racing in Australia, but has been enjoying hearing about his triumphs in Formula 5000, most notably victory in the 1978 Rose City 10,000 at Winton.