Yoong: V8s must be patient with Malaysia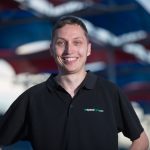 Alex Yoong believes V8 Supercars will have to be patient to see its fanbase grow in Malaysia ahead of the championship's foray into the country at the KL City Grand Prix.
The 38-year-old has emerged as one of Malaysia's most successful drivers courtesy of a career which has seen him compete in Formula 1, Champ Car, sportscars and a brief spell in V8 Supercars as an enduro co-driver in 2004.
Yoong has closely followed Kuala Lumpur's City GP project headed by promoters GT Global Race SDN BHD, which will feature a round of the V8 Supercars Championship from 2016-2019.
The inaugural KL City Grand Prix, held on a yet to be constructed 3.2km street circuit in the heart of the Malaysian capital, is scheduled for August 7-9 and will feature a V8 Supercars five car demonstration designed to introduce the series to fans.
THE FINAL RACE OF THE 2023 REPCO SUPERCARS CHAMPIONSHIP ON ONE OF THE WORLD'S BEST STREET CIRCUITS. GO ALL IN AT THE VAILO ADELAIDE 500, CLICK HERE TO BUY TICKETS
A native of Kuala Lumpur, Yoong says a thorough education of the category is required in order to grow the category in Malaysia.
"They (Malaysian audience) don't really know much about it (V8 Supercars) right now," Yoong told Speedcafe.com.
"I don't think they will know much about it leading up to the race but I think once the race happens KL will certainly know about it then.
"They do know about my outings in the championship but it was 10 years ago.
"At the moment there is a big education plan that needs to happen for it to be a success.
"If you don't do it, it might be a bit of whimper and it won't capture the imagination like some of the other events overseas. It is down to the education.
"It (V8 Supercars) is a great championship and the moves they have taken lately has it pointing in the right direction."
Although he expects some teething issues at the first event, Yoong, currently competing in the one-make Audi R8 LMS Cup, is confident the KL City Grand Prix will grow to become a standout event in South East Asia.
The event has support from KL City Hall, the Malaysian Tourism Board and ASN Automobile Association of Malaysia.
"I definitely think so (that this event will become popular), especially once people see the first race because that will be the proof of the concept and it will really gather momentum from there," added Yoong.
"City races in my view are the way to do it and it will go from strength to strength.
"It is really about managing the expectations of the people here and how you go about doing it.
"As far as how it is going to run, yes there will be teething problems in the first year, but there is nothing tricky about it at all.
"It is not rocket science Malaysia has hosted street races before and V8 Supercars has a lot of experience of hosting street races so from that point of view I think it will run pretty smoothly.
"There is a lot to be done and they knew this six months ago when they pushed the button.
"There was never ever going to be a time where it would be easy. It was a challenge six months ago and it will be a challenge now until the grand prix.
"There are a lot of other guys involved which does give me confidence that it will be a success."
Event organisers have meanwhile confirmed that the inaugural event's flagship category, the GT City Cup, will be held for FIA GT3 and other suitable production-based GT machinery.
V8 Supercars race director Tim Schenken has recently been in KL inspecting the streets on behalf of the FIA as preliminary construction commences for the race meeting.