Bray offers rehab advice to injured Lamattina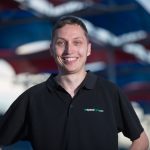 Ben Bray has offered advice to Top Fuel star Phil Lamattina who is facing a lengthy recovery from a shattered vertebrae sustained in a severe crash at the Winternationals.
Lamattina remains in a stable condition at Brisbane's Princess Alexandra Hospital after a chassis failure triggered a shocking high speed crash at Willowbank Raceway, which has left the Mildura driver with serious back injuries.
Doctors expect that Lamattina, who is set to undergo surgery on Thursday, will make a full recovery.
Lamattina's injuries appear to be similar to those suffered by fellow drag racer Ben Bray, who broke three vertebrae in a crash at the Winternationals last year.
Bray only made his return to the sport at the Winternationals last weekend after a gruelling 12 month recovery process.
Having been through the rehabilitation procedure the Bray family has already offered their support in helping 39-year-old complete a full recovery.
"Lamattina is at the PA Hospital and they are the same people that treated me, the doctors are the best and they know exactly what they are doing," Bray, who has recovered from two serious back injuries, told Speedcafe.com.
"He is a tough man and he is a fighter. With a bit of luck hopefully he will make the same recovery as I did and he is back in no time.
"Phil will probably have a similar recovery time compared to me," he added.
"My advice is to listen to the doctors they are pretty good at what they do. I probably could have driven within six months of the crash but my doctors were dead against it."
Lamattina's long term crew chief Aaron Hambridge expects the injury to force the driver out of the sport for at least 12 months, although it remains unclear at this stage if he will return to competitive action.
The Lamattina Top Fuel Racing squad is due to send the remains of the wrecked chassis to its builders in America as part of the investigation into the cause of the failure.
VIDEO: Lamattina's Willowbank Raceway crash