Stable Lamattina faces lengthy recovery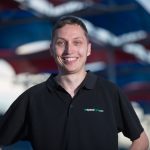 Phil Lamattina could face at least a year on the sidelines after sustaining a shattered vertebrae following a severe crash at the Winternationals, according to crew chief Aaron Hambridge.
The Mildura-born Top Fuel star remains in a stable condition at a Brisbane hospital after a huge airborne accident caused by a chassis failure at Willowbank Raceway on Saturday.
Doctors have confirmed Lamattina, who endured a similar accident in 2007, is expected to make a full recovery although surgeons are yet to operate on the 39-year-old.
The Victorian's crew chief, who is due to visit Lamattina today, has indicated that the Top Fuel star has broken two vertebrae and may have suffered broken ribs in the incident.
Hambridge says the injuries are similar to those suffered by Ben Bray, who returned to racing at this year's Winternationals after breaking his back in a crash at the event in 2014.
"Phil is okay. I have spoken to him this morning and he is a lot more aware," Hambridge told Speedcafe.com.
"Doctors have said he will have a 100 percent recovery rate.
"I'm guessing it (the recovery) will be 12 months or so, his injuries are very similar to those that Ben Bray suffered.
"Ben has had a back injury twice so he knows what it is like. Phil will just be happy he has escaped in the condition he has."
Lamattina's dragster has been impounded by ANDRA following the crash with a full investigation into the cause of the chassis failure to be conducted. The procedure could see the car head back to its builders in America.
Hambridge reiterated that his team had no indication of the chassis failure prior to the crash and is deeply concerned by the issue after just six runs with the car.
"Of course (it is a worry) our last cars had 100 runs on the front half and 200 runs on the back half, so it is very concerning when something like this happens after six laps," added Hambridge.
"It is disturbing so we will have to get to the bottom of it.
"We checked the car the night before and all week. We went over it (the car) with a fine tooth comb and a magnifying glass over every weld.
"I stressed to the guys to check the front, our safety schedule is pretty full on.
"I'm happy with how the car performed safety wise with all the safety gear, so Phil is very lucky."
It is understood Lamattina has not yet discussed whether he plans to return to racing.
Willowbank Raceway CEO Tony Manson has praised his facility for its response to the incident but highlighted that it will investigate procedures to ensure there are no further improvements that can be made.
"I was initially terrified seeing what the car did and to see that happening to Phil, who is very well liked, but our crew and our facility really stood up well," Manson told Speedcafe.com.
"Everything did what it was supposed to do but we will always will look at what went down and if there is anything we can be better at.
"Phil was managed well out of the car, dealt with properly by the medical staff and is now in good care, which is a testament to the procedure.
"You can never get complacent at this game."
VIDEO: Lamattina's Willowbank Raceway crash