Australian GT to adopt new driver seeding system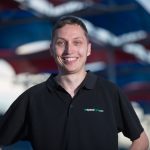 The Australian GT Championship will roll out a new driver seeding system with immediate effect in a bid to even the playing field for the category's diverse array of competitors.
Championship owner Tony Quinn confirmed to Speedcafe.com that the new system will be in place for the remaining rounds of the season beginning at the Castrol Edge Townsville 400 on July 10-12.
Currently the championship operates with four driver grading classes; Gold, Master, Expert and Pro.
The classifications, which determine the length of each car's compulsory pitstop 'penalty', have caused unrest among some competitors due to their dramatic impact on the race results.
The new system will see the championship adopt a driver grading structure with Professional and Amateur classes that are each split into six seeding levels determined by driver skill and experience.
The aim of increasing the number of grades from four to 12 is to decrease the time penalty gaps between each driver seeding, creating a more closely matched trade-off between driver skill and pitstop length.
Drivers who fit in the Pro1-Pro3 banding will not be able to compete in a race by themselves, as is the case with current Pros.
The system was due to be adopted for the 2017 season but the championship has decided to bring it forward to Townsville.
Categorising drivers into the different seedings remains at the discretion of category manager Ken Collier, who will continue to use his driver competitor history and extensive track data to determine the seedings.
"We are just going to take the penalty time and split it into 12," Quinn told Speedcafe.com.
"At the moment we feel there is too much of a gap between each driver grade so we are going to fine tune it so the racing is closer.
"We know from experience with teams and drivers. Everyone knows Chris Mies is a Pro1 but it is difficult for guys like me but ultimately Ken Collier will make the call.
"At least now the gaps are smaller between the driver grades."
Quinn meanwhile met with teams and drivers at Phillip Island asking for feedback regarding his proposal to launch an Australian GT Endurance Series next season.
The pet food and chocolates baron confirmed the plan is to run five one hour sprint rounds and up to four 3 hours endurance races.
The final two rounds of the endurance series are scheduled to take place in New Zealand at the recently purchased Hampton Downs on the first weekend of November, with the finale at Highlands Park two weeks later.