Percat/Smollen win thrilling Carrera Cup opener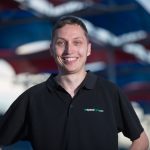 Nick Percat and Shane Smollen came through a thrilling dice with Scott McLaughlin and Stephen Grove to win the first Porsche Carrera Cup Australia enduro encounter at Phillip Island.
The V8 Supercar duo of Percat and McLaughlin were involved in a titanic battle for the lead in the first stint of the race, which saw the pair swap positions on several occasions.
Garry Rogers Motorsport driver McLaughlin produced a highly impressive run from fourth on the grid to put himself in a fight for the lead with Percat.
Percat and McLaughlin pitted with just seconds to spare on the pit window, but the race was robbed of a fascinating battle to the finish, when McLaughlin's co-driver Grove emerged from the pits stuck on the pit limiter.
Grove quickly got up to speed but lost more than six seconds to Percat's co-driver Smollen, who then controlled the remaining laps to take the chequered flag by 2.8 seconds.
The #14 OPS Gateway entry of Cameron McConville and John Goodacre claimed the final place on the podium in third.
Nick McBride and Neale Muston finished fourth with Shae Davies and Geoff Emery in fifth.
A strong drive from 15th on the grid from championship leader Steven Richards saw the #1 Laser Plumbing entry finish seventh in the hands of Dean Grant.
Roger Lago, Max Twigg and V8 Supercras ace Tim Slade rounded out the top 10.
A second 36 lap Porsche Carrera Cup enduro race will take place on Sunday.
Result: Porsche Carrera Cup Australia Race 1, Phillip Island 
| | | | | | |
| --- | --- | --- | --- | --- | --- |
| 1 | McGrath Estate Agents | S.Smollen/N.Percat | Porsche 911 GT3 Cup | 36 | 57:51.8006 |
| 2 | Grove Group | S.Grove/S.McLaughlin | Porsche 911 GT3 Cup | 36 | 57:54.6201 |
| 3 | OPS Gateway | C.McConville/J.Goodacre | Porsche 911 GT3 Cup | 36 | 57:55.8830 |
| 4 | Bob Jane T-Marts | N.McBride/N.Muston | Porsche 911 GT3 Cup | 36 | 58:04.2103 |
| 5 | Davbridge Constructions | S.Davies/G.Emery | Porsche 911 GT3 Cup | 36 | 58:05.2051 |
| 6 | Bob Jane T-Marts | N.Foster/D.Thomas | Porsche 911 GT3 Cup | 36 | 58:09.5046 |
| 7 | Laser Plumbing & Electrical | S.Richards/D.Grant | Porsche 911 GT3 Cup | 36 | 58:10.6244 |
| 8 | JBS Australia | R.Lago/S.Owen | Porsche 911 GT3 Cup | 36 | 58:10.8808 |
| 9 | Porsche Centre Melbourne | C.Baird/M.Twigg | Porsche 911 GT3 Cup | 36 | 58:20.1614 |
| 10 | Veritas / Builtform | A.Mastronadro/T.Slade | Porsche 911 GT3 Cup | 36 | 58:24.5664 |
| 11 | Copyworld Toshiba | M.Almond/J.Karytinos | Porsche 911 GT3 Cup | 36 | 58:29.7149 |
| 12 | Wilson Security/PAYCE/Genis | R.Muscat/S.Walter | Porsche 911 GT3 Cup | 36 | 58:30.3416 |
| 13 | Apartment Hotel | A.Samadi/D.Fiore | Porsche 911 GT3 Cup | 36 | 58:39.9708 |
| 14 | AFS/Top Cat | T.Bates/D.Gaunt | Porsche 911 GT3 Cup | 36 | 59:00.0794 |
| 15 | Porsche Centre Brighton | F.Ross/D.Ryan | Porsche 911 GT3 Cup | 35 | 57:52.1113 |
| 16 | VIP Petfoods | D.Padayachee/I.Padayachee | Porsche 911 GT3 Cup | 35 | 58:11.2280 |
| 17 | Team BRM | S.Hodge/R.Angus | Porsche 911 GT3 Cup | 35 | 58:47.2176 |
| 18 | Hallmarc | M.Cini/C.Mies | Porsche 911 GT3 Cup | 32 | 58:28.7132 |
| DNF | Scott Taylor Motorsport | S.Taylor/D.Canto | Porsche 911 GT3 Cup | 32 | 54:40.3717 |
| DNF | Phase 8 | M.Campbell/T.Miles | Porsche 911 GT3 Cup | 30 | 49:29.2384 |
| DNF | Finanze Ezi | James Koundouris (ACT) | Porsche 911 GT3 Cup |  5 | 12:36.3319 |
| DNF | MotorOne Car Care | James Bergmuller (Vic) | Porsche 911 GT3 Cup | | |
VIDEO: Percat and Smollen speak after winning the opening race

 VIDEO: Porsche Carrera Cup Australia Nick Percat and Scott McLaughlin dice