Percat and Smollen secure Carrera Cup pole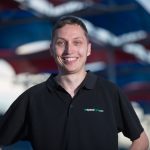 V8 Supercars star Nick Percat and co-driver Shane Smollen will start the first Porsche Carrera Cup enduro race at Phillip Island from pole position.
With the grid determined by combined times from two 15 minute sessions, Smollen's second fastest time in qualifying 1 alongside Percat's third spot in the final outing saw the pair claim pole position.
"I was P3 in my session but Shane did an awesome job to secure P2, which set us up for this final qualifying session," Percat told Speedcafe.com.
"I only needed to put in a decent lap and I managed to do that.
"We just need to make sure that we have a clean first race which we didn't get last year. If we can get a top 3 that will set us up well for Sunday."
Percat and Smollen, who posted a combined 3:02.292s effort, will share the font row with #777 Bob Jane T Marts entry of Nick Foster and Dylan Thomas.
Cameron McConville and John Goodacre will start from thrid on the grid alongside Nick McBride and Neale Muston.
Garry Rogers Motorsport's Scott McLaughlin and his co-driver Stephen Grove were fourth quickest ahead of James Bergmuller and Alex Davison.
Multiple Carrera Cup champion Craig Baird was seventh just in front of Max Twigg.
Walkinshaw Racing's Tim Slade and Adrian Mastronado secured ninth spot, while Roger Lago and Steve Owen rounded out the top 10.
Meanwhile, championship leader Steven Richards will start from a lowly 15th on the grid alongside his enduro partner Dean Grant.
The first of two 36 lap Porsche Carrera Cup races is set to begin at 12:45 local time.
Result: Porsche Carrera Cup Qualifying, Phillip Island
1. Nick Percat /Shane Smollen 
2. Nick Foster /Dylan Thomas 
3. Cam McConville /John Goodacre 
4. Nick McBride/Neale Muston 
5. Scott McLaughlin/Stephen Grove
6. Alex Davison/James Bergmuller
7. Craig Baird/Max Twigg 
8. Shae Davies/Geoff Emery 
9. Tim Slade/Adrian Mastronardo 
10. Steve Owen/Roger Lago 
11. Michael Almond/John Karytinos 
12. Richard Muscat /Sam Walter 
13. Dean Fiore/Ash Samadi 
14. Matt Campbell/Tim Miles 
15. Steven Richards/Dean Grant
16. Dean Canto/Scott Taylor 
17. Daniel Gaunt/Tony Bates 
18. David Russell/James Koundouris
19. Fraser Ross/David Ryan 
20. Simon Hodge/Ray Angus 
21. Christopher Mies/Marc Cini 
22. Duvashen Padayachee/Indiran Padayachee 
VIDEO:Porsche Carrera Cup Qualifying