Mies/Crick take out dramatic GT Island 101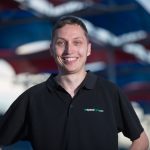 Nurburgring 24 Hour winner Christopher Mies capitalised on an error from Trass Family Motorsport's Graeme Smyth in the closing stages to take out the Phillip Island 101.
The #74 Jamec-Pem Racing Audi of Mies and Greg Crick had been in the mix in the early stages but were unable to keep up with Trass Family Motorsport Ferrari of Smyth and Jono Lester, which had dominated the majority of the three hour endurance.
However, a mistake on lap 74 saw Smyth drop to fourth handing the lead to a hard charging Mies, who went on to take the chequered flag.
Defending winners Tony Quinn and Holden Racing Team star Garth Tander trailed the Audi by 1.081s, with Smyth recovering to bring the Ferrari home in third for the New Zealand Trass Family Motorsport squad.
"It was a fantastic job from the team with strategy," said Crick.
"We've got the longest pitstop in the field with our penalty and we honestly didn't think we could win.
"But we were able to get that time back with the Safety Cars and what a driver Christopher is. He proved just how good he is again today."
Lester had led from pole up until lap 41 when he handed over the duties to fellow Kiwi Smyth, who continued the team's strong run building a lead of more than 30 seconds before the Safety Car was introduced for a second time.
Smyth managed to pull out another decent gap over again before a third Safety Car period in the latter stages, caused by an off from the Flying B Bentley of John Bowe and Peter Edwards, put the race in doubt and brought the #74 Audi into play.
The Trass Family Motorsport Ferrari seemed in command of the contest once racing resumed with half an hour of the race remaining but drama struck shortly after the restart when Smyth ran wide gifting the lead to Mies.
Tander applied pressure on Mies in the closing laps but the German managed to hang on to claim victory.
The #88 Maranello Motorsport Ferrari 458 GT3 of Tony D'Alberto came through to finish fourth ahead of the #36 Erebus Motorsport Mercedes of Geoff Emery and Max Twigg, who slipped back from challenging the podium places in the final third of the race.
There was plenty of drama throughout the race with the Safety Car called on the second lap when the Audi of Dean Koutsoumidis and the Lamborghini of Jan Jinadasa collided.
Contact involving the Ford GT of Kevin Weeks and V8 Supercars driver James Moffat saw them retire early on along with the Dean Canto/Andrew Taplin Aston Martin, which held third in the early running.
Peter Conroy and Michael Hector's Porsches were involved in a collision which brought out the Safety Car and forced the pair into retirement.
RESULTS: Phillip Island 101 
| | | | | | |
| --- | --- | --- | --- | --- | --- |
| Pos | No | Drivers | Team | Car | Laps |
| 1 | 74 | C.Mies/G.Crick | JAMEC PEM Racing | Audi R8 Ultra | 88 |
| 2 | 7 | A.Quinn/G.Tander | Darrell Lea | McLaren 650S GT3 | 88 |
| 3 | 27 | J.Lester/G.Smyth | Trass Family Motorsport | Ferrari 458 GT3 | 88 |
| 4 | 88 | T.D'Alberto/G.Denyer | Maranello Motorsport | Ferrari 458 GT3 | 88 |
| 5 | 36 | M.Twigg/G.Emery | Erebus Motorsport | Mercedes Benz AMG SL | 88 |
| 6 | 47 | J.Koundouris/M.Marshall | Supabarn Supermarkets | Porsche 997 GT3-R | 88 |
| 7 | 75 | S.McLaughlan/S.Johnson | JAMEC PEM Racing | Audi R8 Ultra | 87 |
| 8 | 11 | T.Walls/W.Luff | Objective Racing | McLaren 650S GT3 | 87 |
| 9 | 73 | M.Hovey/M.Campbell | HHH Racing/Triffid/ESP | Ginetta G55 GT3 | 87 |
| 10 | 37 | K.Quinn/J.Webb | Darrell Lea | McLaren MP412-C | 87 |
| 11 | 6 | N.Antunes/R.Salmon | Skwirk/Beechwood Homes | Audi R8 Ultra | 86 |
| 12 | 38 | G.Taylor/B.Mawer | Adina Apartment Hotels | Audi R8 LMS | 86 |
| 13 | 51 | Andrew Macpherson | AMAC Motorsport | Porsche 997 GT3-R | 86 |
| 14 | 69 | T.Koundouris/S.Owen | Supabarn Supermarkets | Porsche 996 GT3-S | 86 |
| 15 | 19 | M.Griffith/D.Gaunt | Hogs Breath Café | Audi R8 LMS | 85 |
| 16 | 33 | S.Ellinghham/A.Heimgartner | Fastway Couriers | 911 GT3 Cup Porsche | 85 |
| 17 | 54 | T.Alford/M.O'Connor | Donut King | Lotus Exige Cup R | 84 |
| 18 | 63 | D.Stutterd/M.Niall | Team FreeM | Lamborghini Gallardo | 83 |
| 19 | 55 | X.West/A.Jones | Malibu Boats | Porsche GT3 Cup | 83 |
| 20 | 80 | Peter Edwards/John Bowe | Flying B Racing | Bentley Continental | 82 |
| 21 | 68 | M.O'Donnell/J.McCorkindale | Thomson Geer Lawyers | 911 GT3 Cup Porsche | 36 |
| 22 | 12 | B.Cook/T.Knight | Walz Group | Porsche GT3 Cup | 82 |
| 23 | 93 | P.Morris/B.Lynton | MARC Cars Australia | MARC Ford Focus | 76 |
| DNF | 48 | J.McMillan/J.LeBrocq | Interlloy M Motorsport | Reiter Camaro GT3 | 77 |
| DNF | 8 | A.Deitz/C.McConville | Maranello Motorsport | Ferrari 458 GT3 | 67 |
| DNF | 14 | A.Taplin/D.Canto | Taplin Real Estate | Aston Martin Vantage | 62 |
| DNF | 71 | D.Patterson/S.Richards | DPM Motorsport | Reiter Camaro GT3 | 61 |
| DNF | 46 | J.Magro/N.Morcom | johnmagro.com | Lamborghini Gallardo | 59 |
| DNF | 4 | P.Conroy/S.Varney | | GT3 Cup Car MY11 | 49 |
| DNF | 53 | R.Gartner/M.Hector | SAFE-T-STOP | Porsche GT3 Cup | 48 |
| DNF | 5 | Kevin Weeks/James Moffat | Supaloc Racing | Ford GT 2011 GT3 | 9 |
| DNF | 77 | Jan Jinadasa | JJA Consulting Group | Lamborghini LP560-4 | 2 |
| DNF | 2 | Dean Koutsoumidis | EVA Racing/Evolve Technik | Audi R8 Ultra | 2 |
VIDEO: Phillip Island 101 winner Christopher Mies