Repaired Flying B Bentley returns with new look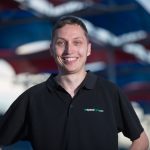 The Flying B Racing Bentley has uncovered a fresh new look on its return to action at Phillip Island having been sidelined from the Australian GT Championship opener.
A sizeable accident during the closing stages of February's Bathurst 12 Hour ruled the Continental GT3 out of action for the Clipsal 500 meeting, with extensive repairs required to the chassis, rear suspension and transaxle.
Having decided not to re-shell the car, the parent Maranello Motorsport team has completed a full repair with the Peter Edwards/John Bowe entry boasting a new silver look for this weekend's Phillip Island 101.
The squad completed the repair at a Melbourne fabricator using a V8 Supercars jig, with assistance from Bentley UK.
"We didn't rush it (the repair),"Flying B Motorsport's Campbell Little told Speedcafe.com.
"I think a lot of teams possibly would have re-shelled the car but our experience with V8 Supercars we thought we could do it cheaper here in Australia.
"It was a reasonably straight forward repair it was effectively the way we repaired cars 10 years ago.
"It was a steep learning curve and we only had one guy allocated to it.
"Bentley in the UK were very helpful with the repair and it is good as new."
Little admits the team is still learning the Continental GT3 but is confident the car will be successful in the Australian GT Championship.
"We still haven't got heavily into testing as of yet," added Little.
"I think (Peter Edwards) has to learn how to drive it as it is quite a bit different to the Ferrari."
The Bentley was one of three Maranello Motorsport run cars to undergo extensive repairs with the squad's own Ferrari 458 GT3 and the Trass Family Motorsport Ferrari 458 requiring a re-shell at the manufacturer's Italian base.
The two damaged Ferraris are also set to return to competitive action this weekend with Tony D'Alberto and Grant Denyer sharing the #88.
Kiwi duo Jono Lester and Graeme Smyth will pilot the #27 TFM Ferrari.