Perfect Waters completes Winton clean sweep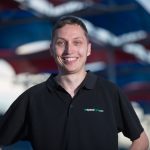 Cameron Waters issued a statement to the Dunlop Series field as he completed his second clean sweep of the season with victory in the third heat at Winton.
The race was once again decided at the first corner after the Prodrive Racing Australia won the drag race with Andrew Jones off the start.
Waters did make slight contact with Jones as he took the lead into Turn 1, but with a clear track in front of him he marched towards another dominant win by 9.9s from the Brad Jones Racing entry.
A second clean sweep of the season has pushed Waters, who has seven wins this year, into a comfortable 118 point lead at the top of the championship standings.
"It has been an awesome weekend I've topped every session, I'm wordless," said Waters.
There was plenty of action behind with Paul Dumbrell, Chris Pither and Jack Le Brocq involved in a thrilling battle for the final podium spot.
Despite struggling for outright pace, Dumbrell managed to fend off the Matt White Motorsport duo for the position at the flag.
Shae Davies came home sixth as he slipped away from the front runners after a strong start to the race that saw him occupy fourth early on.
Aaren Russell was seventh ahead of Todd Hazelwood and Super Black Racing's Simon Evans, who stormed through the field to ninth.
A last gasp overtake on Paul Morris on the final lap saw James Golding complete the top 10 with an impressive drive from the back of the grid.
Result: Dunlop Series Race 3, Winton 
| | | | | | |
| --- | --- | --- | --- | --- | --- |
| 1 | TEAM ENZED PRA | Cameron Waters | Ford Falcon FG | 18 | 26:07.5002 |
| 2 | Brad Jones Racing | Andrew Jones | Holden Commodore VE2 | 18 | 26:17.4552 |
| 3 | Eggleston Motorsport | Paul Dumbrell | Holden Commodore VE2 | 18 | 26:23.2778 |
| 4 | Ice Break Racing | Chris Pither | Ford Falcon FG | 18 | 26:23.6285 |
| 5 | MW Motorsport | Jack Le Brocq | Ford Falcon FG | 18 | 26:23.9557 |
| 6 | Davbridge Constructions | Shae Davies | Ford Falcon FG | 18 | 26:26.2834 |
| 7 | Plus Fitness / Go Karts Go | Aaren Russell | Ford Falcon FG | 18 | 26:32.7774 |
| 8 | iseek Racing | Todd Hazelwood | Ford Falcon FG | 18 | 26:33.6484 |
| 9 | Super Black Racing | Simon Evans | Ford Falcon FG | 18 | 26:34.8821 |
| 10 | Gippsland Body Building GRM | James Golding | Holden Commodore VE2 | 18 | 26:38.0998 |
| 11 | United Racing | Paul Morris | Ford Falcon FG | 18 | 26:38.5997 |
| 12 | Eggleston Motorsport | Ant Pedersen | Holden Commodore VE2 | 18 | 26:39.7772 |
| 13 | THR Developments/SA Racing | Taz Douglas | Holden Commodore VE2 | 18 | 26:43.6705 |
| 14 | Arcoplate / Penrite | Kurt Kostecki | Holden Commodore VE2 | 18 | 26:44.2040 |
| 15 | Hayman Reese Racing | Jesse Dixon | Ford Falcon FG | 18 | 26:45.3296 |
| 16 | PAYCE | Macauley Jones | Holden Commodore VE2 | 18 | 26:49.3954 |
| 17 | Matt Hansen Racing | Matt Hansen | Holden Commodore VE2 | 18 | 26:56.1965 |
| 18 | Eggleston Motorsport | Garry Jacobson | Holden Commodore VE2 | 18 | 27:00.1597 |
| 19 | THR Developments/SA Racing | Jason Leoncini | Holden Commodore VE2 | 18 | 27:02.2595 |
| 20 | Bryce Fullwood Racing | Bryce Fullwood | Holden Commodore VE | 18 | 27:02.7354 |
| 21 | Fujitsu Racing | Renee Gracie | Ford Falcon FG | 18 | 27:06.8608 |
| 22 | Street Fighter Performance | Dan Day | Ford Falcon FG | 18 | 27:11.6069 |
| 23 | Cavalier Homes/Falcon Spares | Matthew Chahda | Ford Falcon FG | 18 | 27:15.7613 |
| 24 | Battery World Racing | Aaron McGill | Holden Commodore VE2 | 18 | 27:16.4081 |
| 25 | Alphabet / Bursons Auto Parts | Josh Kean | Holden Commodore VE2 | 18 | 27:23.5755 |
| 26 | Challenger / Simplex | Brett Hobson | Holden Commodore VE2 | 17 | 26:13.4943 |