Waters continues winning streak at Winton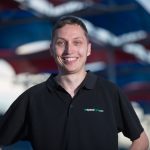 Prodrive Racing Australia young gun Cameron Waters racked up his fifth Dunlop Series victory of the season with a dominant run in the Winton opener.
The Mildura born racer didn't put a foot wrong after converting his pole position into a relatively straight forward win in the 18 lap heat at the Victorian circuit.
Waters was unable to completely relax with Andrew Jones in his mirrors for the entire race, although the Brad Jones Racing driver was unable to really challenge for the lead.
Reigning champion Paul Dumbrell managed to finish third despite coming under severe pressure from Matt White Motorsport's Jack Le Brocq in the closing stages.
The race was not without incident with race control forced to deploy the Safety Car after an eventful opening lap.
Slow starts from Le Brocq and Chris Pither saw the pair both run wide at Turn 1, which triggered a multi car incident as they tried to defend their positions.
Garry Jacobson was caught up in the bottleneck leading to contact with Macauley Jones, which forced the latter out of the race.
Meanwhile, Simon Evans ran wide at Turn 2 before Jason Leoncini spun off the circuit at high speed later in the lap.
There was plenty of action once racing resumed highlighted by a strong drive to fifth from Garry Rogers Motorsport's James Golding, while a recovering Pither salvaged sixth.
A fighting drive from Ant Pedersen earned him seventh position ahead of Jesse Dixon, Josh Kean and Paul Morris, who rounded out the top 10.
The Dunlop Series will contest two more 18 lap races on Sunday.
Result: Dunlop Series Race 1, Winton
| | | | | | |
| --- | --- | --- | --- | --- | --- |
| 1 | TEAM ENZED PRA | Cameron Waters | Ford Falcon FG | 18 | 27:10.5845 |
| 2 | Brad Jones Racing | Andrew Jones | Holden Commodore VE2 | 18 | 27:13.3975 |
| 3 | Eggleston Motorsport | Paul Dumbrell | Holden Commodore VE2 | 18 | 27:14.2386 |
| 4 | MW Motorsport | Jack Le Brocq | Ford Falcon FG | 18 | 27:14.8007 |
| 5 | Gippsland Body Building GRM | James Golding | Holden Commodore VE2 | 18 | 27:17.8182 |
| 6 | Ice Break Racing | Chris Pither | Ford Falcon FG | 18 | 27:18.2321 |
| 7 | Eggleston Motorsport | Ant Pedersen | Holden Commodore VE2 | 18 | 27:24.5924 |
| 8 | Hayman Reese Racing | Jesse Dixon | Ford Falcon FG | 18 | 27:26.4354 |
| 9 | Alphabet / Bursons Auto Parts | Josh Kean | Holden Commodore VE2 | 18 | 27:31.3905 |
| 10 | United Racing | Paul Morris | Ford Falcon FG | 18 | 27:32.4031 |
| 11 | Davbridge Constructions | Shae Davies | Ford Falcon FG | 18 | 27:32.7784 |
| 12 | THR Developments/SA Racing | Taz Douglas | Holden Commodore VE2 | 18 | 27:35.0408 |
| 13 | iseek Racing | Todd Hazelwood | Ford Falcon FG | 18 | 27:35.2915 |
| 14 | Super Black Racing | Simon Evans | Ford Falcon FG | 18 | 27:35.6863 |
| 15 | Eggleston Motorsport | Garry Jacobson | Holden Commodore VE2 | 18 | 27:36.2513 |
| 16 | Arcoplate / Penrite | Kurt Kostecki | Holden Commodore VE2 | 18 | 27:43.4664 |
| 17 | Cavalier Homes/Falcon Spares | Matthew Chahda | Ford Falcon FG | 18 | 27:48.1490 |
| 18 | Street Fighter Performance | Dan Day | Ford Falcon FG | 18 | 27:48.6168 |
| 19 | Fujitsu Racing | Renee Gracie | Ford Falcon FG | 18 | 28:00.9895 |
| 20 | Bryce Fullwood Racing | Bryce Fullwood | Holden Commodore VE | 18 | 28:01.4873 |
| 21 | THR Developments/SA Racing | Jason Leoncini | Holden Commodore VE2 | 18 | 28:02.5471 |
| 22 | Challenger / Simplex | Brett Hobson | Holden Commodore VE2 | 18 | 28:03.5045 |
| 23 | Matt Hansen Racing | Matt Hansen | Holden Commodore VE2 | 18 | 28:03.6652 |
| 24 | Battery World Racing | Aaron McGill | Holden Commodore VE2 | 18 | 28:33.4691 |
| 25 | Plus Fitness / Go Karts Go | Aaren Russell | Ford Falcon FG | 16 | 28:18.6550 |
| DNF | PAYCE | Macauley Jones | Holden Commodore VE2 | | |