Jake Parsons lands Korea Audi R8 Cup drive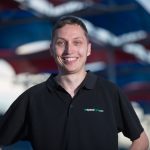 Australian single seater ace Jake Parsons will make his GT debut having secured a drive in the Audi R8 LMS Cup in Asia.
The Sydney-based driver is set to compete in this weekend's second round of the one make GT Asia support series at the Yeongam former Korean Grand Prix venue.
Parsons' rapid rise up the Formula Masters China Series standings has prompted a late call up to join the championship in a guest drive behind the wheel of an Audi R8 LMS GT3 racer.
The 20-year-old reigning Asia Cup series champion currently leads the Formula Masters China series by 16 points, having scored two wins from three starts so far this season.
Although eyeing a single seater future in America, the 20-year-old is an admirer of the burgeoning GT scene and sees this weekend's drive as a chance to assess the machinery for possible future outings.
"It's my first GT race so I'm really excited about it," Parsons told Speedcafe.com.
"I didn't think an opportunity like this would pop up so early so it is a bit of a shock but we had been hoping that these sort of things would happen this year.
"For me long term, I'm interested in racing prototypes and the World Endurance Championship so this is something different and a GT style car can only add to my skill set as a driver.
"This right now feels like a really good experience to go down that path and we will see how it turns out. There could be a future after this weekend as far as GT racing is concerned.
"This series has World Endurance Championship connections so as far as that goes it is a great championship to be a part of."
Parsons is hopeful he may be able to dovetail his Formula Masters China Series campaign with a couple outings in the final two Audi R8 Cup rounds at Fuji (October 10-11) and Shanghai (October 31- November 1).
"It would be awesome to go back to Japan and drive in front of the teams over there and keep a concoction with that world," added Parsons.
"It seems that Japan is its own network and to be able to get into it and race over there would be a cool opportunity."