Logano pips Kahne to Kansas pole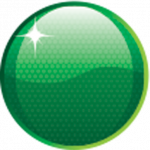 Joey Logano has taken his fourth pole position of the NASCAR Sprint Cup season setting the fastest time for the Spongebob Squarepants 400 at Kansas Speedway.
It is his 12th career pole and first in Kansas.
Logano topped the timesheets with a speed of 309.633 km/h (192.397 mph). Kasey Kahne was second-fastest just 0.008 seconds quicker than the other Team Penke Ford of Brad Keselowski.
"We just kind of swung for the fence in the last round and the car drove awesome," said Logano.
"It's not very often you get a car that's just perfect.
"I came off Turn 4 and I didn't know how to go faster than that. … It was a great run, our fourth pole of the season (also at Atlanta, Martinsville and Richmond). We just need to rack up some more wins."
18-year-old young gun Erik Jones, who is substituting for the injured Kyle Busch was an impressive 12th. Jones, who had made a mid-race series debut at Bristol when Denny Hamlin suffered neck spasms, was fastest in final practice and then took pole for the supporting Truck Series race.
Last week's Talladega race winner Dale Earnhardt Jr could only managed 17th in Kansas qualifying, although that was two places better than Hendrick team-mate Jimmie Johnson.
QUALIFYING : Spongebob Squarepants 400 – Kansas Speedway
 

| POS. | CAR # | DRIVER | MANUFACTURER | SPONSOR | MPH | BEST TIME | BEHIND |
| --- | --- | --- | --- | --- | --- | --- | --- |
| 1 | 22 | Joey Logano | | AAA Insurance | 192.397 | 28.067 | Leader |
| 2 | 5 | Kasey Kahne | | Great Clips | 191.911 | 28.138 | –0.071 |
| 3 | 2 | Brad Keselowski | | Avaya | 191.857 | 28.146 | –0.079 |
| 4 | 78 | Martin Truex Jr | | Furniture Row/Visser Precision | 191.782 | 28.157 | –0.090 |
| 5 | 19 | Carl Edwards | | Stanley | 191.578 | 28.187 | –0.120 |
| 6 | 4 | Kevin Harvick | | Jimmy John's/ Budweiser | 191.299 | 28.228 | –0.161 |
| 7 | 16 | Greg Biffle | | Cheez-It/Sponge Bob Square Pants Ford Fusion | 191.015 | 28.270 | –0.203 |
| 8 | 41 | Kurt Busch | | Haas Automation | 190.853 | 28.294 | –0.227 |
| 9 | 1 | Jamie McMurray | | McDonald's | 190.228 | 28.387 | –0.320 |
| 10 | 42 | Kyle Larson | | Target | 190.154 | 28.398 | –0.331 |
| 11 | 24 | Jeff Gordon | | American Red Cross | 189.900 | 28.436 | –0.369 |
| 12 | 18 | Erik Jones | | M&M's Red Nose Day | 189.540 | 28.490 | –0.423 |
| 13 | 11 | Denny Hamlin | | FedEx Freight | 190.712 | 28.315 | –0.248 |
| 14 | 43 | Aric Almirola | | Farmland | 190.691 | 28.318 | –0.251 |
| 15 | 31 | Ryan Newman | | Quicken Loans | 190.557 | 28.338 | –0.271 |
| 16 | 14 | Tony Stewart | | Bass Pro Shops / Mobil 1 | 190.510 | 28.345 | –0.278 |
| 17 | 88 | Dale Earnhardt Jr | | Nationwide | 190.496 | 28.347 | –0.280 |
| 18 | 20 | Matt Kenseth | | Dollar General | 190.476 | 28.350 | –0.283 |
| 19 | 48 | Jimmie Johnson | | Lowe's | 190.282 | 28.379 | –0.312 |
| 20 | 17 | Ricky Stenhouse Jr | | Zest Ford Fusion | 190.228 | 28.387 | –0.320 |
| 21 | 15 | Clint Bowyer | | 5-Hour Energy | 190.188 | 28.393 | –0.326 |
| 22 | 27 | Paul Menard | | Pittsburgh Paints / Menards | 190.047 | 28.414 | –0.347 |
| 23 | 55 | David Ragan | | SpongeBob Square Pants Aaron's Dream Machine | 189.760 | 28.457 | –0.390 |
| 24 | 13 | Casey Mears | | Squidward Tentacles Chevrolet SS | 189.175 | 28.545 | –0.478 |
| 25 | 51 | Justin Allgaier | | Fraternal Order of Eagles | 189.607 | 28.480 | –0.413 |
| 26 | 9 | Sam Hornish Jr | | Medallion Bank | 189.434 | 28.506 | –0.439 |
| 27 | 10 | Danica Patrick | | GoDaddy | 189.347 | 28.519 | –0.452 |
| 28 | 3 | Austin Dillon | | Dow | 189.162 | 28.547 | –0.480 |
| 29 | 47 | AJ Allmendinger | | Dillon's/SCOTT Products | 188.917 | 28.584 | –0.517 |
| 30 | 6 | Trevor Bayne | | Advocare Ford Fusion | 188.904 | 28.586 | –0.519 |
| 31 | 95 | Michael McDowell | | WRL / Larry the Lobster | 188.904 | 28.586 | –0.519 |
| 32 | 33 | Ty Dillon | | No. 33 Plankton Chevrolet SS | 188.818 | 28.599 | –0.532 |
| 33 | 26 | Jeb Burton | | Maxim Fantasy Sports | 188.613 | 28.630 | –0.563 |
| 34 | 35 | Cole Whitt | | TBD | 187.748 | 28.762 | –0.695 |
| 35 | 83 | Matt DiBenedetto | | Dustless Blasting | 187.669 | 28.774 | –0.707 |
| 36 | 7 | Alex Bowman | | Accell Construction | 187.559 | 28.791 | –0.724 |
| 37 | 23 | J.J. Yeley | | Dr. Pepper "I'm a Pepper" | 186.451 | 28.962 | –0.895 |
| 38 | 38 | David Gilliland | | MDS | 186.393 | 28.971 | –0.904 |
| 39 | 34 | Brett Moffitt | | Dockside Logistics | 186.361 | 28.976 | –0.909 |
| 40 | 98 | Josh Wise | | Phil Parsons Racing | 186.245 | 28.994 | –0.927 |
| 41 | 40 | Landon Cassill | | Carsforsale.com | 185.141 | 29.167 | –1.100 |
| 42 | 32 | Joey Gase | | TBA | 185.052 | 29.181 | –1.114 |
| 43 | 46 | Michael Annett | | Allstate Peterbilt Group | 183.773 | 29.384 | –1.317 |