Vanthoor eyeing Bathurst success with new Audi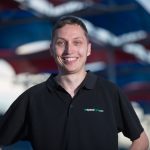 Laurens Vanthoor believes Audi's new R8 racer has the potential to conquer the Bathurst 12 Hour by virtue of its improved straight-line speed.
The Belgian ace has played a part in the development of the all-new R8 LMS GT3 which replaces the previous model of the same name launched seven years ago.
Having contested the vast majority of his GT racing career behind the wheel of the original R8, the reigning Blancpain Endurance Series champion has been encouraged by the improvements from Audi's new GT3 challenger.
The new R8 made its race debut in a VLN race last month and is likely to make appearance in Australia at next year's Bathurst 12 Hour.
The R8 has scored two wins at the Mount Panorama classic but has struggled for pace on the long straights in recent years.
"It is quite different to the old R8 it is more towards DTM style of car, it is more of a racecar than the old R8 felt," Vanthoor told Speedcafe.com.
"The old car was good on aerodynamics but this new car should be better on outright speed. We have had problems in the past in qualifying but the top line speed has improved.
"It should be easier to race and easier to pass cars like the Bentley but on pure lap performance I don't expect to go a lot quicker than before.
"I think there is a fair chance we will see the car at Bathurst but this decision will be made by Audi," he added.
"I'm pretty keen to try to improve my (qualifying record) lap around there and maybe challenge to win it which would be nice."
Although impressed by the improvements compared to its predecessor, Vanthoor warns that Balance of Performance tweaks in the lead-up to the event will play an important role ahead of the February race.
"It is difficult to predict how the car will handle on the tracks but it should be better on the straights," he continued.
"In the end we all drive to BoP so the basis of the car is better than the old one, but due to BoP it may not be the quickest although the standards of the car will be better.
"The comfort, handling, mechanics reliability should be a step further."
Vanthoor will continue to develop the R8 at this weekend Nurburgring VLN race ahead of the car's major race debut in May's Nurburgring 24 Hours.