CAFE CHAT: Stephane Ratel on Bathurst 12H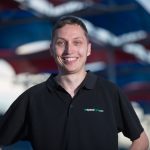 Stephane Ratel has been instrumental in GT3 racing's global explosion and now he has a vision to expand into the Asia-Pacific market with a new endurance series.
The creator of Europe's successful Blancpain Series has now taken over the the organisation and promotion of Malaysia's Sepang 12 Hour, which he believes can be the start of a multi race GT3 endurance series incorporating the Bathurst 12 Hour.
Speedcafe.com's Tom Howard spoke to Stephane Ratel about his plans to build an Asian endurance series and the growth of the Bathurst 12 Hour.
SPEEDCAFE: We have seen the Bathurst 12 Hour continue to grow. How aware are you of its emergence on the world GT3 racing scene?
STEPHANE RATEL: We are of course very aware of the Bathurst 12 Hour. We have an agreement with the race organisation to use our Balance of Performance data we contribute to GT3 racing.
This data allows the cars to be as close as possible in performance to provide a good level of competition and we have been in charge of the BoP at James O'Brien's Bathurst event for the last two years. I think you will agree it has produced quite hotly disputed races.
The GT scene is exploding everywhere. We are close to most GT promoters around the world and we are glad to work with them.
SPEEDCAFE: There have been talks about the formation of an Asian GT Series which would involve the Bathurst 12 Hour and the Sepang 12 Hour. What stage is this at?
RATEL: We are taking it step-by-step and it would be logical for Sepang to have a link with Bathurst for sure, but first of all we need to succeed in building Sepang into a success.
It is very new for us, we have just taken over the Sepang event. We had to change the date from August to December because there is a lot of GT racing in the region.
August was difficult for teams to find the time to compete in the event so our ambition is to bring Australian teams, Asian teams and European teams to come to the event so we had to find a winter date in December.
We think it has a good chance to be a success and we are working hard at this. If it is a success we can really think of a tie-up with Bathurst 12 Hour in one way or another.
To talk about an Asian Series we would need to find at least another event or two and the problem is it is not like Europe where you can just drive to circuits, it involves a lot of freight and containers.
It is not easy. The time we have between the end of national championships like Asian GT, Australian GT and Japan and the start of a new season, we have limited time available.
This is where we are struggling a bit at the moment but I would say step by step approach and the intention is there.
Let's make a success of Sepang and then we will need to find another date and then we hope to present something at some stage.
SPEEDCAFE: Would the possible formation of a new Asian GT Endurance Series closely follow the principles and rules of the Blancpain Endurance Series?
RATEL: The idea is to definitely adopt pretty much the rules of the Blancpain Series as it has been an outstanding success.
We are at full capacity so we know that works so then we would develop that for the Asia-Pacific region.
SPEEDCAFE: Obviously putting tougher a new series is a big project but can you give a timescale for this?
RATEL: The objective is to have a successful event at Sepang in 2015 and if we do a successful event we will be probably be able to work on something for 2016/2017, because the Sepang race will be in December with the Bathurst race obviously in February.
It may also be part of something else we are discussing a number of ideas but we have a great relationship with James O'Brien (Bathurst 12 Hour organiser) and our objective is to grow it.
SPEEDCAFE: How receptive has James O'Brien and the Bathurst 12 Hour been in the discussions so far?
RATEL: James comes to visit us quite regularly and someone from SRO went to Bathurst this year.
We have a good relationship and he enjoys working with us and we hope to grow the relationship. He is very down to earth.
It has to make sense. There is no point of a tie-up just to have a tie-up, it has to make commercial sense and build something that is relevant for his event.
SPEEDCAFE: Would the possibility of Bathurst joining an Asian GT Series bring more teams and manufacturers to the event in your opinion?
RATEL: For sure I really believe that. When you are a part of a bigger picture you will get more teams joining and more manufacturer presence.
For example at Spa with Blancpain it started off as independent teams and as time goes by more and manufacturer support emerges and the series is growing as a whole. The Blancpain Endurance Series has shown the way here.
SPEEDCAFE: Would it be conceivable to run a two race Asian series or does it have be built around more events?
RATEL: A two race series does not make sense. You really need to have three or four but we will see what opportunities arise.
I'm confident we will do something but James will need to confirm this but our intention is to work together more.
SPEEDCAFE: Could the Macau GT World Cup event become part of this proposed Asian GT3 endurance series?
RATEL: It is an FIA race so I don't see how we could include it. Our races cannot be FIA sanctioned because they are long distance and the FIA has an exclusivity with the ACO.
Macau is very different event, it is really a sprint, a one driver race.
So we would encourage teams to go to Macau as part of an Asian trip which could include Sepang from a logistical standpoint (but it won't be part of the series).
SPEEDCAFE: You've mentioned that your focus is to improve the Sepang 12 Hour event, how do you plan to do that?
RATEL: First of all we would use our technical and sporting regulations. I don't know how long it will take but I would like it to be the equivalent of the Spa 24 Hours.
Spa is such a success and a strong market I don't see why we wouldn't be able to replicate it at Sepang.
It is a beautiful circuit and interesting to drive it has easy access from Asia and Australia. We will try to convince as many of the European, Asian and Australian teams to go there to make something quite unique.
That is the objective. We will push on promotion and an television and we will definitely raise the event to a very different level to what it was before.
SPEEDCAFE: Are you happy with Bathurst's 12 hour format? There has been some talk among competitors of expanding the event to a 24 Hour race?
RATEL: I love 12 hours, I think it is great. To run a 24 hour race is just more expensive and it will be difficult. You have the 12 hours of Sebring and the 12 hours of Bathurst I think it fits perfectly.
This would be James' decision but at the end of the day it would be just double the cost if the race moved to a 24 hour format for little in return.
SPEEDCAFE: The Bathurst 12 Hour is starting to grow an audience, if you were to gain more control of the event is there anything you would change?
RATEL: I think with long distance racing it takes time. If you look at the events in the world there are really four big ones that have been around for a long time.
You have Le Mans, Nurburging, Spa and Sebring. Even Daytona in terms of crowds is not on the same level.
For example last year it was the 90th anniversary of the 24 hours of Spa. It has been going on a for a long time.
Building up a new long distance event takes time and with success it will continue to grow. When more famous drivers race there then it will make it more appealing to the public.
I think you need to have a big party to create the ambience and you have to have a lot of people for a big party. It is a bit of a chicken and egg situation.
If you don't have a large public long distance events can feel empty and not what you want.
SPEEDCAFE: Currently there isn't an all-professional class at the Bathurst 12 Hour, is that something you have discussed as part of your collaboration?
RATEL: No, no I think it is too early for the Bathurst 12 Hour to go to an all-pro class.
However, Sepang will have an all pro class and will follow our Blancpain regulations exactly. If the bigger picture comes then we will have to run each event to the same rules.
SPEEDCAFE: The Bathurst 12 Hour and Australian GT Championship are obviously managed by two separate entities. Do you plan to engage with Tony Quinn and his AGTC organisation as well?
RATEL: No, not at all. Benjamin Franassovici our British GT manager has met with Australian GT Championship and maybe I should.
The last time I was involved in Australia was when I looked to set up an FIA GT1 race at Eastern Creek in 2010.
We are not looking at getting involved with the championship. I personally welcome every GT3 championship in the world as it brings more drivers into the series and maybe one day we will work with them on something when we have established more credibility down there.
For example if we wanted to do something in New Zealand maybe they could be people to talk to.