Nissan happy with latest GT-R LM test results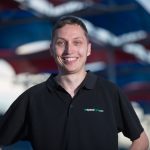 Nissan bosses have declared this week's test a success after the radical GT-R LM Nismo prototype racked up valuable mileage ahead of its Le Mans 24 Hour race debut.
The revolutionary front-drive, front-engined prototype completed almost 2,000km of running at NCM Motorsports Park in Bowling Green, Kentucky, a circuit which mimics parts of the famous Le Mans track.
Prior to the four-day test, the GT-R LM had accrued just 3,800kms of track time ahead of its eagerly awaited Le Mans 24 Hour debut in June.
Factory drivers Harry Tincknell, Michael Krumm, Max Chilton, Marc Gene, Jann Mardenborough and Alex Buncombe were given time behind the wheel.
Tincknell completed the bulk of the driving, which was interrupted by heavy rain.
Despite admitting at the Silverstone World Endurance Championship opener the GT-R LM's hybrid system remains a work in progress, Nissan's global motorsport chief Darren Cox says the car made solid progress this week.
"We're very pleased to have put almost another 1,200 miles (2,000 kms) on the car, especially when you consider that 50 percent of our running was disturbed by the wet weather," said Cox.
"It was interesting to get Michael Krumm's feedback on the car, as he hasn't driven it for a while, and it was great to see Al Buncombe go out and be bang on the pace straight away.
"There is still a long way to go, but the car is really starting to look like a racing car now.
"Every time we go out on track, we find something new.
"It is a delight to see the car come on in leaps and bounds, but nobody knows exactly where we will be until we get to Le Mans."
The GT-R LM Nismo is due to be homologated at the end of the month before a two-day test in America in the first week of May.