Webber expects Porsche 919 improvements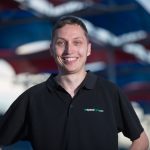 Mark Webber believes Porsche has plenty of work ahead to perfect the revised 919 Hybrid LMP1 after being forced to retire from the lead at the Silverstone 6 Hour.
The former Red Bull Formula 1 driver set a blistering pace to lead the first 90 minutes of the FIA World Endurance Championship opener, before a terminal drivetrain problem struck the #17 car, he shared with Kiwi Brendon Hartley and Timo Bernhard.
The retirement curtailed a positive start to the weekend with the Aussie scoring pole position in qualifying before opening up a comfortable lead in the early stages of Sunday's race at the Northamptonshire circuit.
Although impressed with improved pace aided by the squad's new 8MJ Hybrid system, Webber, admitted there is plenty of room for Porsche to improve the 919 over the season.
The sister #18 entry provided a glimpse into the potential of the car with Romain Dumas, Neel Jani and Marc Lieb finishing just 4.6s behind eventual winners Audi.
"We don't know why after 90 minutes the car has stopped, this is tough for all of us," Webber told reporters including Sppedcafe.com.
"It has been an incredible effort by the team but that is motorsport.
"We know it is a six hour race and we have got to get to the end but we had a drivetrain issue so it was over pretty quick.
"I only felt it one lap before but put until then we had nice lead it was going well it is a shame for Timo (Bernhard) and Brendon (Hartley).
"We have a lot of preparation to do behind the scenes, Spa is our next race but we have got a lot of work still to do.
"We had a lot of good potential here but when you don't finish there is no result.
"The hybrid system is sensational. We have brilliant technology on the hybrid side.
"We know its extremely optimistic as it is new technology but the guys are confident and happy to take this further.
"We will look to improve the other components of course like the chassis and that will put us in a good position in the short term and long term."
Webber's view is echoed by new Porsche recruit Jeromy Moore, who joined the squad as a performance engineer in the off-season, after a 14 year stint as Craig Lowndes' race engineer in V8 Supercars.
"I think this can be our year," Moore told Speedcafe.com.
"Qualifying we have got sorted, racing we are not as confident, we still need to do a bit of work with the car.
"I think we know which way we need to go and we have got a lot of good people with great ideas.
"There is a lot more to come from this car."
The FIA World Endurance Championship continues with the Spa Francorchamps 6 Hour on May 2.
VIDEO: Porsche race wrap from Silverstone